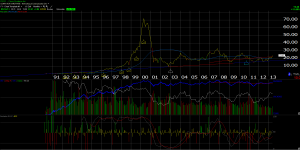 Today's chart and fundamental comment is an update of our March 7th post on Cisco (CSCO). Last night and this morning the key 200-month technical resistance level was taken out decisively, after Cisco resported quarterly results. Revenues rose 5%, operating profit rose 7% and CSCO said that enterprise and large-business tech spending was recovering.
The next stop technically is the $28 area.
Cisco has now gone from being a growth stock of the late 1990's to a decent-dividend, low valuation, value stock of the 2000's.
Fundamentally, cash-flow generation is robust.
We'll have more later, but heed the 12% pop in the stock price on 3(x) average volume already today.
Trinity Asset Management, Inc. by:
Brian Gilmartin, CFA
Portfolio manager