One of our favorite sources of capital markets research is the Bespoke work and the weekly Bespoke Report.
Once again, this week Bespoke didn't disappoint on numerous levels, but this week – p. 36 – was found to be particularly fascinating: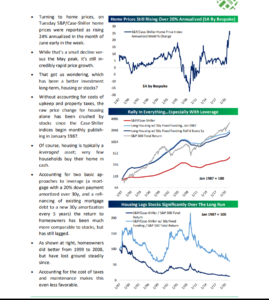 This is probably subject to some vigorous debate, but the Case-Shiller stats are clear.
Summary / conclusion: Both after the Great Financial Crisis (Mortgage Crisis) of 2008, and today, with a zero fed funds rate, one has to continuously worry about a 200 – 300 bp rise in mortgage rates turning the housing market into a landscape that resembles a nuclear winter. We saw a glimpse of that in the 2nd half of 2018 when – at least in Chicago anyway – real estate prices in some of the tonier areas north of downtown started to flag. (Part of it could have been the passage of the real estate tax cap with Tax Cuts & Jobs Act, but some was also due to higher mortgage rates after Janet Yellen started tightening monetary policy.)
Thanks for reading on a long Labor Day weekend.