Bernie Schaeffer's – Schaeffer's Investment Research – "Despondent Survey" is at an interesting level: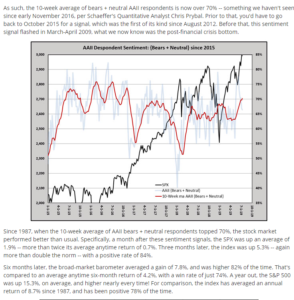 From talking to clients and reading comments on Seeking Alpha, most are still bearish on "expected forward returns" for the SP 500, and to me that's a plus.
Here is the entire Schaeffer's link to the full article for interested readers.
This blog has written about the "2008 effect" here and here. 
This could be wrong and take all forecasts with substantial skepticism and a grain of salt, but the sentiment data like the chart and historical forward returns listed above, lead me to conclude the secular bull market remains intact.
Thanks for reading.