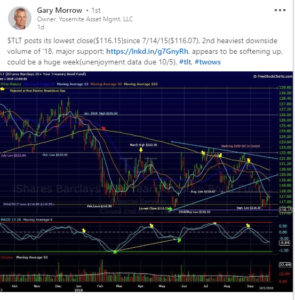 An excellent technician, Gary Morrow, as well as a long-time acquaintance, with his TLT chart from 10/1/18. The 3.12% and 3.25% area continue to be strong resistance for the 10-year and 30-year Treasury respectively. When those levels break though, or when we see the 10 and 30 year Treasury close above those yields on good volume, we might see some real pain in the bond markets. (Find Gary's work on LinkedIn or on Twitter at @garysmorrow.)
The new "forward 4-quarter" estimate for the SP 500 with this week's report will be somewhere between $173 – $174 per share based on the quarterly bottom-up estimate that we track each week on this blog.
3rd and 4th quarter earnings will be fine – the pundits are talking tariff's and the stronger dollar's impact on the SP 500, but i expect better revenue growth will offset much of the worry.
Here is the late update on SP 500 earnings from this weekend (dated 9/28/18):
Fwd 4-qtr est: $168.72 down a little from the previous weeks $169.07
PE ratio: 17x
PEG ratio: 0.76x
SP 500 earnings yield: 5.79% vs 5.77% from last week
Year-over-year growth of fwd est: +22.6%
Summary / conclusion: While the assumption is that 3rd and 4th quarter SP 500 earnings will be fine, the stock market's reaction to the earnings is all that matters. (This is why we track the "forward 4-quarter estimate for readers.) Bespoke Research noted in their weekly Bespoke Report last Friday night, that despite strong 2nd quarter earnings, many stocks traded lower after reporting earnings (maybe a "sell the news" reaction ?). Bespoke specifically noted that September's earnings reports saw 105 companies disclose their quarterly results, with an average "beat rate" for earnings per share of 75% for Q2'18, and yet fell an average of 1.22% on their reporting day.
This could be seasonal too – September is one of the worst months of the year historically for monthly returns AND a lot of retailers report in September and that sector has struggled.
Note the quarterly bump in the SP 500 estimate this week: from $168 to $173 – $174.
More to come on earnings this week.
Thanks for reading.