The American Association of Individual Investors (AAII) puts out a weekly investor sentiment survey and this week the AAII investors that voted themselves as being bullish on the market, totaled a whopping 32%.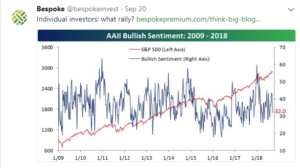 Here is the summary data:
AAII % bullish: 32%
AAII neutral: 35.9%
AAII bearish: 32%
Think about the above data. We've been in a bull market for 10 years since the bear market low, or 5 years if you measure from when the 2000 and 2007 highs of 1,550 were taken out in May, 2013.
Here is the wrinkle though. I've often wondered if the AAII survey has lost its relevance as a sentiment indicator. I subscribed to AAII in the mid-80's for a while. The average age of its readership could be substantially older than the average TheStreet, or StockTwits or Josh Brown reader on Twitter.
The newsletter writers tend to be more bullish, as they should be in my opinion.
This blog has made a couple of attempts to talk about market sentiment: here and here.
Sentiment – to me anyway – still seems unduly bearish.
————————————————————————-
SP 500 Earnings data (Source: Thomson Reuters TWIE)
Fwd 4-qtr est:$169.07 vs last week's $169.10
PE ratio: 17.3x
PEG ratio: 0.76x
SP 500 earnings yield: +5.77% vs +5.82% last week
Year-over-year growth of fwd est: +22.92% vs last week's +22.87%
The year-over-year growth of the forward estimate continues to expand or grow, which is always a positive.
Thomson Reuters IBES provides the forward estimate every week, but this blog has tracked it for years.
Here is the forward progression of full-year "calendar" SP 500 EPS estimates:
2020: $194.82 for expected 9% SP 500 EPS growth in calendar 2019
2019: $178.86 for expected 10% SP 500 EPS growth in calendar 2019
2018: $162.19 for expected 23% SP 500 EPS growth in calendar 2018
You can see how earnings growth is expected to return to a more normal historical gros rate next year, when it will lap the tax cuts.
Thanks for reading…