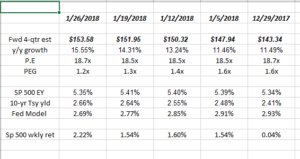 This week, the presentation of the earnings data was arranged a little bit differently to show the SP 500 earnings growth and forward estimate growth in a different light. Also shown is the SP 500 earnings yield relative to the 10-year Treasury or "Fed Model" calculation, showing the SP 500 still undervalued relative to the 10-year Treasury yield.
What a start to the year.
Note the accelerating pace of the growth in the forward 4-quarter estimate. I thought going over 10% growth was a big deal in November, December '17, but in fact, the "forward 4-quarter" growth rate has now accelerated to 15%.
Lots of Large-cap Technology companies reporting next week. Large-cap growth has been the "style-box" leader for a while now.
Microsoft (MSFT) reports Wednesday night after the bell, while Amazon and Apple report Thursday night after the close.
Microsoft is up 9.5% year-to-date already in '18 after its 40% gain in '17. I would not be surprised to see the stock consolidate some of its 13 month gains, though Microsoft is a huge beneficiary of tax reform, almost as much as Apple. (Long MSFT, AAPL, AMZN.)
Vising clients around the Midwest this weekend. Posting might be limited.
Thanks for reading.