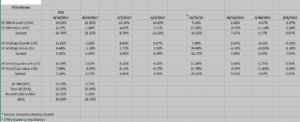 With a clean quarter-end cutoff this weekend, I thought it would be a good idea to update the style box or "Value vs Growth" analysis done for readers every 6 weeks.
Likely thanks to the rally in Energy, "Value" across all the market cap ranges closed the performance differential since mid-August '17, with the smallcap asset class showing the sharpest improvement over the last 6 weeks.
Clients have been kept out of Energy since – if the secular bear market path followed by both Tech and Financial sectors plays out – there is more consolidation ahead for the Energy sector. Remember, the crude oil bear market didn't start until September – October, 2014.
Financial's which I consider to be a Value sector have rebounded nicely since early September – that too likely helped the mid and large-cap asset classes.
Looking at the charts, many of the major asset classes, i.e. SP 500, Russell 2000, Mid-Cap's, the Bank Index, Transport's, are poised for breakouts. There is a technician who has grouped these charts into one frame, and I need to show it to readers. This week, later in the week…
Thanks for reading…
Brian