The reversal in the Russell 2000 and biotech's today was pretty significant since these groups have been leading us lower, along with Energy, Basic Materials and Transports.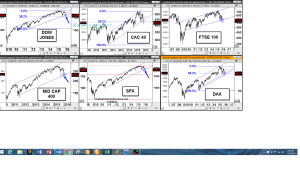 These timely charts posted today by Chris Kimble of Kimble Charting Solutions tell an important story in my opinion, and coincided pretty closely with the bounce today.
A break below today's lows for the SP 500 and you'd have to think we are headed much lower.
In 2015, the largest holding for clients did well:
5% – Microsoft +20% for '15
4% – Schwab + 9% for the year
3.5% – Amazon +110% on the year
3.5% – GE +20% on the year (added to client accounts after announcement of GE Capital divestiture, added still more after Trian)
3.2% – Boeing: -10% in 2015.
There were more than a few lemons, too: Whole Foods (still have about 1/3rd original position), Twitter (sold all at $28), went long the Japanese Yen and the DXJ for 6 months in 2015, and remain long Ford and GM, two of the biggest disappointments, given that both Ford and GM were expected to grow earnings +50% in 2015.) The Industrial stocks have not performed well.
Per another good technician I follow closely, Gray Morrow, who can be found at @garysmorrow and Thestreet.com, semi's acted well today. Usually if semi's trade well, Technology will follow.
The Cloud remains a secular growth story: Amazon, Google and Microsoft, are all prime Cloud beneficiaries. Large-cap growth, despite the valuation issue, could be a place to hide in turbulent waters this year.
Today, January 20th, 2016 could have been a significant turn for the SP 500. We'll know within the next few days and weeks.
Look for a soft or weaker open, to be followed by decent rally through the day, and then a strong close at the highs on good volume. That type of trade has been absent all year.