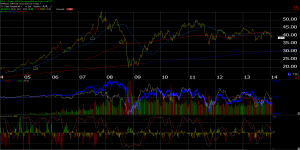 Here is our updated Emerging Markets ETF (EEM) chart that was originally posted on this blog here on June 11,2013.
With the Argentina peso devaluation, the SP 500 and the major US equity averages are weak, Treasuries are higher, and the EEM is getting drilled.
Not to drop names, but we were chatting with Helene Meisler and Josh Brown on Twitter and reminiscing about the Malaysian Ringgit and Thai Baht devaluation in July, 1997 which triggered a collapse of global growth in the Asian Tigers in late 1997, which caused a correction in the SP 500 in the fall of 1997, and ultimately culminated in the Long-Term Capital Crisis in August – September, 1998.
My own opinion is that post-2008, the US Financial System and the European Developed market economies are so much stronger today, thus even if the Argentine devaluation should ripple across Latin America to Brazil, etc, the damage to the SP 500 and the US equity markets should be limited.
The 200 day moving average for the SP 500 lies at 1,700 and would represent a correction of 7.5% – 8% which in our opinion would be perfect for the SP 500 and set the market up for the next rally.
A healthy bull market needs corrections, to keep it healthy and honest.
In terms of buying the EEM for clients we are still waiting for the low $30's. The hey-day for the Emerging Markets and the EEM came from March, 2000 through March, 2009 when the US lagged badly. Money rotated out of the US and developed markets back into the emerging markets given the SouthEast Asia devaluation and the underperformance in the late 1990's.
Give the EEM and the emerging markets more time. Watch how Latin America ETFs and currencies trade to see if there will be a Latin America "contagion".
A price of $30 for the EEM would maintain the upward-sloping trend line off the 2004 IPO.
Right now, the US and the SP 500 are the safest place to be in a very risky world. There really is "no place like home" for safety and outperformance today.
Thanks for reading.
Trinity Asset management, Inc. by:
Brian Gilmartin, CFA
Portfolio manager