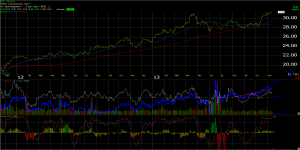 Gary Morrow is one of our favorite technicians, from our days together at the Street.com.
Morrow runs a hedge fund in San Luis Obispo, Ca. and contributes to the blog "This Week on Wall Street".
Gary shot me some technical commentary on PFE yesterday, after telling him I was going to update Fundamentalis.com with a PFE update. Here is Gary's technical commentary on PFE's action of late (sent 11.12.13):
Pfizer is showing the early signs of a breakout.  The stock has been consolidating near its April high for the last three weeks.  The powerful rally off the October low began to stall out just shy of PFE's 52 week highs near $31.20.  The result has been the formation of a rather sloppy bullish pennant with support near the July spike high holding the downside.   Today PFE has taken out the upper trend-line of this short term pattern and appears poised to finally put some distance on the $31.20 area.  Unfortunately at this early stage volume is very disappointing despite the bullish price action.  Pfizer may need to clear the $32.00 area before investors take notice. 
We sold our MRK after their earnings report, although MRK is trading better. I think it has risk to $40. PFE's technical action looks better to me, and this q3 '13 earnings report showed less severe of a decline in revenue growth.
PFE is up again today, although volume still not robust.
Thanks for reading,
Trinity Asset Management, Inc. by:
Brian Gilmartin, CFA
Portfolio manager