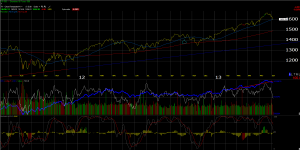 D-Day, or June 6th, 1944 was 68 years ago today. No matter how bad things seem today, the specter of global Fascism and Naziism was far, far worse back then.
As we await the Friday morning, May non-farm payroll report, with consensus expectations of Friday morning's number being between 165,000 – 175,000, it appears that, given the above chart of the SP 500, "risk-off" is suddenly back in vogue.
The 10-year Treasury yield is back below 2.09%, its early March high to trade now at 2.05%;
The dollar has fallen from 102 yen to 95 yen, a big chunk of that in the last few days;
The SP 500 is testing its 50-day moving average for the first time since mid-April;
The Nikkei has gotten hammered in a nasty correction:
Some of the May economic data was weaker, so there has been some worry about tomorrow's number.
The good news about this latest correction is that if the number is weak, say between 100,000 to 130,000 jobs gained in May, some of the bullish starch is already out of the stock market.
My own opinion is that, the US economy will continue to gain steam. April's payroll report saw a lot of bearish sentiment coming into its release, but the revisions to February and March were much stronger-than-expected. April's "reported" number in early May was 165,000 but with prior revisions, topped out at +276,000 the strongest month of job gains in some time.
The US economy is still growing below its long-run growth rate. I blame Washington, but that is like blaming the Fed, i.e makes for an easy target.
Eventually US corporations have to make long-term investments in the future and support that investment with hiring.
All the bond and interest-rate sensitive sectors are now oversold, including the bond proxies.
A 150,000 net jobs number for May would be just perfect – everybody wins. No Fed, no inflation, no worries about recession.
Trinity Asset Management, Inc.
Brian Gilmartin, CFA
Portfolio manager
312-810-3480