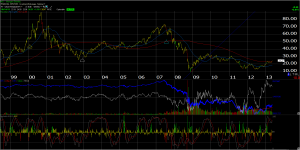 Financials are on fire today as the capital market and market sensitive names like Goldman Sachs (GS), Schwab (SCHW) and JP Morgan (JPM) start to get a persisent bid. The SP 500 is hitting all-time highs every day and credit spreads and the corporate bond markets remain well-behaved.
We've been recommending financials to readers here, here and here and even before that.
The Morgan Staney (MS) chart caught our eye today, so we added MS to a few accounts this morning. I'm not a big fan of Citi (C) or AIG by any stretch so I am looking for financial names that will outperform in 2013.
Current EPS consensus for MS is looking for $2.06 and $2.53 in 2013 and 2014 after earnings just $0.13 in 2012, so the stock is trading about 11 – 12(x) expected 2013 earnings for hefty growth this year and next.
I've followed the brokers for years and with the markets as a tailwind, Wall Street consistently underestimates results. That being said, the political incorrectness of proprietary trading these days means the brokers are intermediaries rather than outright risk takers, although I'm sure prop trading isn't gone completely.
My guess is, if 2013 continues apace, particularly with the SP 500 making new highs daily, Japan and signs of life out of Europe, MS could earn at least $3 per share by 2014.
The dilution in 2008 and to date has been horrendous, thus with curtailed risk appetites and shareholders diluted in the extremus, don't expect to see $100 or the 2000 high for many, many moons.
What worries me about MS ? Here is a fully diluted shares outstanding at the end of each fiscal year, since 2008. In 2009, MS started reporting on calendar year: (Source ThomsonReuters Datastream)
12/31/12: 1.886 bl
12/31/11: 1.675
12/31/10: 1.411
12/31/09: 1.185 bl
11/30/08: 1.096 bl
If this dilution would stop, the stock will get legs in a hurry.
Trinity Asset Management, Inc. by:
Brian Gilmartin, CFA
Portfolio manager