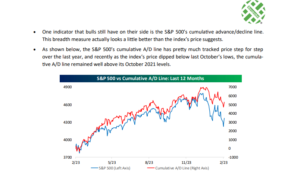 The Bespoke Report from Friday, February 25th, 2022 noted all the bearish metrics (as you'd expect) but Paul Hickey and his team did also note that – given the start of the year 2022 and the lack of positive price action almost everywhere – the SP 500's breadth is still in good shape.
Don't take this post as a recommendation to do anything other than note that of all the metrics followed, having good breadth in a sea of red isn't that terrible.
Listening to the Cassandra-like pundits all weekend, and there constant tale of fear and anxiety which the mainstream media loves, the biggest positive I see with the Russia – Ukraine situation is that the Ukrainian people appear willing and ready to fight, and that is HUGE.
America's experience with Vietnam, Iraq and Afghanistan taught two generations of Americans that if the native population doesn't want to fight for their own freedom and independence, then the Americans are forced to do it and that rarely turns out well for America.
Ukraine's President Zelenskyy is a true leader. It's inspiring watching Vitali Klitschko (former heavyweight boxing champ) and his younger brother wearing Ukrainiam military fatigues and fighting for their homeland.
Last Thursday, February 24th's upside reversal for the major indices mat turn out to be a durable bottom for the stock market given bearish sentiment, the oversold nature of stocks and the better-than-expected breadth.
Let's see where we close on Monday, February 28th, 2022.
This isn't a prediction and take all opinions with a healthy grain of salt. If crude oil and commodities crack here, as was shown on the SP 500 earnings post this weekend, it could take some pressure off the Fed and Jay Powell.
Thanks for reading.