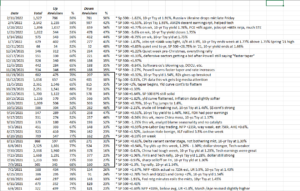 This table is from data courtesy of IBRES data by Refinitiv, which shows how SP 500 EPS "revisions" have softened since the 2nd and 3rd quarters of 2021 were reported.
The bordered boxes on the spreadsheet show the July '21 and October '21 reporting periods for the SP 500 components and readers can see the trend in "Up revisions" far outnumbering the down or negative revisions, until this current reporting period which has slid to 50% / 50%.
It's one data point but it's worth noting.
SP 500 data: 
The forward 4-quarter estimate jumped to $225.15 this week vs $225.02 last week and $223.25 to start the year.
The PE on the forward estimate is 19.6x versus last week's 20x;
The SP 500 earnings yield jumped to 5.09% this week vs 5% last week. The high water mark for the first 6 weeks of 2022 is 5.09%;

Here's a snippet from our SP 500 earnings tracking spreadsheet: note how the 2022 full-year and quarterly bottom-up EPS estimates have changed very little since earnings season started.
If analysts were reluctant to raise numbers during the roaring bull market from March, 2020 through December '21, think about their reluctance to raise numbers in front of higher fed funds rates and quantitative tightening.
We've seen "Ukraine" before: 

This clip from our SP 500 EPS "revisions" spreadsheet shows us how analyst's reacted in Q1 '14 when Putin invaded Ukraine or at least got the world to think that he was going to take an aggressive action towards Ukraine.
For context, in 2013, the SP 500 rose 32% on the back of the Bernanke Taper Tantrum, interest rates rose sharply, but in Q1 '14, Venezuela devalued their currency and Ukraine became an issue for President Obama.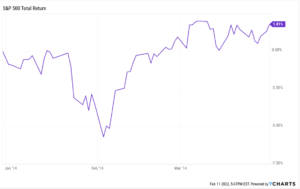 Ths Ycharts performance graph shows the action in the SP 500 for Q1 '14.
The difference between early '22 and early '14 is the Fed today and the inflation worries. In January '14 in fact President Obama replaced Bernanke with Janet Yellen and this insured that interest rates wouldn't be raised during his term. That's definitely not the case today.
Summary / conclusion:  SP 500 earnings look to be on track for the 8% – 10% EPS growth in 2022. The difference this year being a much more active Fed and tighter monetary policy. I have no no idea how to gauge Ukraine and what President will face or how NATO will react. Putin likes to bluff since it keeps the old USSR "nationalists" and Mother Russia fans appeased.
Cisco (CSCO) and Walmart (WMT) both report this week and with Walmart's report, the Q4 '21 earnings season will come to an unofficial close.
Both Cisco and Walmart are "non-mo" stocks and have underperformed the SP 500 the last 12 years: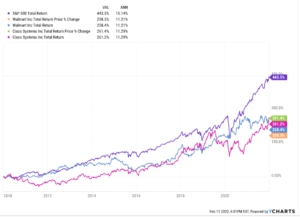 Source: Ycharts
Cisco and Walmart have almost identical total returns since 1/1/2010.
Thanks for reading.