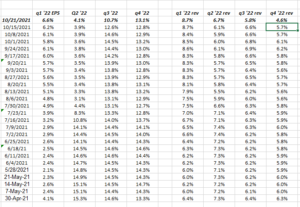 IBES data by Refinitiv's Earnings Scorecard came out early this Friday morning, 10/22/21, and from that report and one of the tables therein, the above spreadsheet was created to track SP 500 "expected" EPS and revenue growth rates over long periods of time.
Note the weakening in 2H '22 for SP 500 EPS and revenue. Late 2022 expected growth rates looked to have peaked the week of September 24, 2021.
Next week is the big week for SP 500 market cap with Apple, Microsoft, Amazon, Facebook and Amazon reporting. Bespoke noted in Q2 '21 that it's unusual for the "Big 5" to all report in the same week, and now it's happened 2 quarters in a row.
At the end of October we'll update all these spreadsheets.
2021 expected growth rates: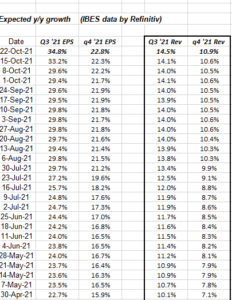 As readers can see from the above chronology for both Q3 and Q4 '21, the expected growth rates for the SP 500 continue to push higher.
Summary / conclusion: It's clear that the sell-side analysts are starting to consider a Fed taper and it's potential impact on US stocks and the SP 500. It's also important to think about the fact that – given the inflation data – the Street might be expecting an earlier fed funds rate hike for late 2022 than was thought otherwise.
The typical weekend SP 500 earnings update will be out late Saturday or Sunday.
For some perspective, the Street completely missed the EPS and revenue upside for the SP 500 for 2021, at least through the first 3 quarters. The sell-wide was starting to curtail their estimates in late 2020 for 2021 only to be caught completely off-guard underestimating the actual strength.
Next week is critical: 22% of the SP 500's market cap reports with the Big 5, and this blog will be watching revisions.
More to come this weekend.
Thanks for reading.