Next week is a big week for mega-cap earnings reports. The "Big 5" or Apple, Microsoft, Amazon, Alphabet and Facebook all report next week.
Stephanie Link, a frequent CNBC guest is calling Tuesday, July 27th, 2021, "Super Tuesday" with Apple, Microsoft, and Alphabet scheduled to report after the bell on Tuesday as well as many other names on the docket.
We did a quick preview of all but Facebook yesterday on this blog, noting revision history for the mega-cap stocks.
No question the mega-cap tech names and their guidance for Q3 '21 and the back half of the 2021 will be important for the SP 500 EPS and revenue revisions data. However it isn't too early to start paying attention to 2022 EPS and revenue estimates and tracking their changes to growth rates.

Data Source: IBES data by Refinitiv
Note how 2022's expected EPS and revenue growth rates will return to normal in 2022. Using percentages can be deceptive, since SP 500 earnings will still be growing, but the growth rates will return to more normal levels.
Calendar years 2020 and 2021 will turn out to be huge anomalies for SP 500 EPS and revenue. In this current quarter – Q2 '21 – EPS is expected to grow 70% and revenue will likely be at least 20% – well ahead of historical averages. Here is how 2021 EPS and revenue growth rates are looking as of July 23, 2021: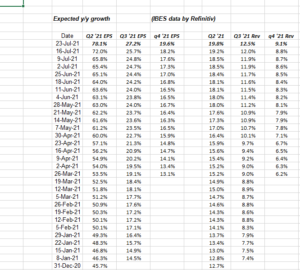 The comp's get tougher after Q2 '21 but again, well above average growth rates are expected for the last 2 quarters of the year.
SP 500 data:
The forward 4-quarter estimate rose to $201.27 last week, up from $200.07 the prior week.
The PE ratio on the forward estimate is 21.9x
The SP 500 earnings yield this week was 4.56% vs 4.62% last week.
The quarterly bottom-up estimate for Q2 '21 was $47.43 vs last week's $46.44 and up from April 2nd's $41.99
We'll know with the mega-cap earnings reports this coming week if the Q2 '21 bottom up estimate will eventually rise above $50.
Summary / conclusion: Anyone watching CNBC or any other financial media outlet knows that actual Q2 '21 EPS and revenue results are positive and continue to exceed consensus estimates. That's been the pattern now for 4 – 5 quarters.
We need to start looking ahead a little bit and paying attention to 2022 revisions. There is no reason to worry yet, just know that if Refinitiv and IBES are providing the data, and they are, it's worth tracking and seeing what the numbers say.
Given their market cap weights, the Apple, Microsoft, Alphabet, Amazon and Facebook results are critical for the overall stock market, and particularly the SP 500.
When the "Big 5" reported Q4 '20 results in January '21, the numbers were well ahead of consensus and the stocks went nowhere. That was an important tell. That should be telling readers the market action is elsewhere.
Let's see what the "message of the markets" is this week.
Remember, EPS and revenue estimates change quickly and the market can move without warning. Invest your own money based on your personal financial profile and your appetite for volatility.
Thanks for reading.