Doing the weekly earnings update, a lot of SP 500 EPS data is thrown out to readers (source data from IBES data by Refinitiv), but one method I use to confirm the growth rates is to track "aggregate estimate revisions" from IBES data.
The problem with the Refinitiv reports is that they only give 4 weeks at a time – the last 4 weeks – in terms of tracking the number of SP 500 estimates that have seen revisions up or down over the week, but this blog has been tracking this data since 2010, so the data we provide readers – while sourced from Refinitiv / IBES, is followed internally for the last 10 years.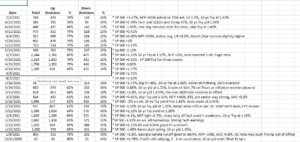 This spreadsheet shows the "positive" vs "negative" revisions for SP 500 companies since January 1, 2021.
Note the last 4 – 6 weeks: the positive revisions are actually growing, while the number of actual revisions is smaller than each typical reporting period.
This confirms or supports for readers the percentage growth rates found on this weekend's weekly earnings update.
(The weekly market returns and written descriptions over to the right is a personal habit that tries to capture the big news event that week. The bank spaces are me not getting to the data and the spreadsheet for those particular weekends.)
Jeff Miller: 
I've mentioned Jeff's passing a few times on the blog, but i wanted to devote a longer effort to his memory for readers who may not have known Jeff or his substantial body of work.
Jeff and I met through the inimitable Jim Cramer when we were both writing in the early 2000's for what was then TheStreet.com (now known as TheStreet), and Jeff was publishing "A Dash of Insight" every week. While Jeff was devoted to the column, I did a number of things for TheStreet.com including conference calls and – most importantly – bottom-up fundamental analysis on individual stocks, much as I write for www.seekingalpha.com today.
We both resided in the Chicago area, Jeff living and having an office in Napervile, Illinois while I lived and worked in Lincoln Park, just north of the Chicago business district in downtown Chicago. We started chatting offline while we were writing for TheStreet.com, since Jeff was a big SP 500 earnings analysis fan, and that's what i tended to write about, and I was a big fan on analyzing economic data and Jeff was a Phd in Economics from the University of Wisconsin I believe, and even taught Public Policy and Economics at the University of Michigan. I took every chance to pick his brain about economic modeling and econometrics. Jeff was the go-to guy on a lot of economic analysis since he could quickly figure out whether an author's model was built correctly or whether it was inherently biased from the start.
He was a brilliant guy and I learned much from him.
In fact, this blog which was started in 2011, was a Jeff Miller idea. How the discussion started was – after 2008 – and after the worst decade for stock returns since the 1930's i.e. 2000 to 2009, I wasn't sure Trinity Asset Management was going to make it. In the 2nd quarter of 2009, the AUM had shrunk to just over $7 million, and I was hanging on by the skin of my teeth both literally and figuratively. Sometime in 2010 after the market began to recover, I still wasn't sure that my little practice would survive, and plus, I had gone through a 2nd bout of cancer in late 2010, early 2011 (thank you Northwestern Hospital of Chicago) and so I wanted a firm that was trustworthy and high caliber to suggest or recommend to clients in the event I was going to have dirt thrown on me in a 6-foot hole, or in the event clients decided they wanted someone else managing their money.
I called Jeff up one weekend, asked him to meet me in at his office in Naperville on a Sunday, explained what was going on, and said "Look I need a credible shop and person that will treat my clients well if something happens to me and I'd like to be able to recommend clients to you and NewArc Capital." Jeff's firm that he founded was NewArc Capital, and as we talked that day, he suggested I give my own practice more time to recover and also start blogging on SP 500 earnings or earnings in general since that is what I tended to follow or write about, and other than Ed Yardeni, who does a very good job with the topic, it wasn't broadly covered in the financial media.
Jeff said the blog would / could give me more visibility in the financial media marketplace, and I think it's helped in that way.
Jeff's son Derek, who wrote this tribute to his father on www.seekingalpha.com after Jeff passed, helped me get the blog up and running and even helped a tech illiterate like me post charts and graphs and tables and spreadsheets to the blog, which helped it become viable and authentic.
Derek graduated from the University of Iowa, went to Iowa Law School, made Law Review and is probably a very good lawyer today.
Before summarizing, I'd like to add a note of thanks to Jim Cramer and the then Street.com. People give Jim a lot of crap and he caught a LOT of crap during 2000 – 2002 and the popping of the large-cap growth craze and the so called dot.com bubble, but the genius of TheStreet.com like a lot of things Cramer does, is that it brought a lot of people together on the site. There was always some carping and b–ching by the professional whiners. but to read guys like Jim "Revshark" Deporre (@RevShark) or Scott Rothbort, or Barry Ritzholtz, who would occasionally post on Columnist Conversation before he was Ritzholtz Wealth Management, or Vitaliy Katsenelson, who is CIO of a Colorado Wealth Management firm, or Norm Conley who runs a lot of money out of St. Louis, or Jeff Bagley or Bob Lang, and Rob Martorana (who was my editor, and is himself not in the best of health today) ) all of whom became friends during that time.
Jeff Miller became a good friend because of our geographic proximity, but we met through TheStreet.com. People don't realize Cramer is a pretty good businessman, not to mention a very good investor. He was early with TheStreet.com and MadMoney is his baby. That is a VERY successful and profitable show for CNBC, after 20 years, maybe be one of the best investment shows ever, surpassing Louis Rukeyser and many others, and it's been running for what – 20 years now ?
Even after a number of us had left or been jettisoned from TheStreet, Jeff and I and Rob Martorana a bunch of others who do an "advisors group" conference call once every few months, on a topic Rob would put together and just throw market topics back and forth.
Anyway, Jeff is gone and I will miss him, but I'm grateful for his advice and counsel over the years and the short time we had together.
Thank you for reading.