This week will be started off with a link from Factset, John Butter and his crew, as this link from Factset sent to readers this Friday, February 26th, 2021, that Q1 '21 SP 500 estimates have started out with their 2nd highest increase since 2002.
Readers were given a jump on this with last week's blog post when I write about the upward revisions to Q1 '21 and also linked Q2 '21.
In the ever-present tussle between the market's valuation and SP 500 earnings, pay attention to the market for sure. Jeff Miller over at A Dash of Insight had some interesting and very prescient thoughts on the market last week. Jeff occasionally picks up this blog, for which I am very grateful, but on it's own, "A Dash" was voted one of the Top 10 financial blogs in America several years ago. Jeff packs a lot of info in every week. Become a regular reader and your portfolio will benefit.
---
Michael Santoli reported last week on CNBC that earnings momentum was slowing, but that could be a function of the fact that as today, 479 SP 500 companies have reported their Q4 '20 results. In March, '21 investors get a handful of critical reports from the likes of Costco, (COST) FedEx (FDX), Accenture (ACN), Micron Technology (MU), Oracle (ORCL), etc. and a host of other retail, which will give us a good look at a wide swath of the economy through the end of February, '21. As of last Friday, February 18th, 2021, 399 companies had reported Q4 '20 results, or roughly 80% of the SP 500.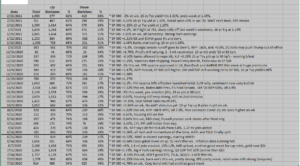 Source: IBES data by Refiniv, dated 2/26/21.
As a check on the hard EPS data that will be shown shortly the above table is an internal spreadsheet of the weekly SP 500 EPS "revision" data from Refinitiv. Each highlighted block is the earnings season, with the top block being the heart of Q4 '20 earnings season and each successive block being Q3 '20 and then Q2 '20.
A mix of 70% positive / 30% negative revisions for the SP 500 is still very healthy.
SP 500 EPS data – looking at the numbers: 
The forward 4-quarter estimate this week is $174.19 vs last week's $173.68 and 12/31/20's $159.02.
The PE on the forward estimate is 21.9x, vs 22.5x last week and 26x at 12/31/20;
The SP 500 earnings yield is now 4.57% vs 4.45% last week and 4.23% on 12/31/20. With the SP 500 down 2% this week and the forward estimate higher, the SP 500 earnings yield naturally rose.
For the 4th straight week, the "average" expected SP 500 EPS growth for both calendar 2020 and 2021 is 5%, up from 4% for months.
"Rate-of-change"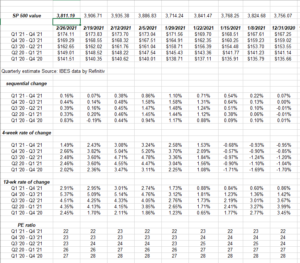 Source: internal spreadsheet tracking IBES data by Refinitiv.
The 4-week rate of change has slowed a little the last few weeks as SP 500 earnings reports start to dwindle.
However the trend is still higher.
Finally, the best table of all: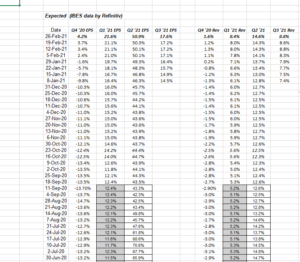 Source: internal spreadsheet tracking IBES data by Refinitiv
Haven't shown this table in a few weeks, but note the continued upward revisions to "expected" SP 500 EPS growth and revenue growth through Q3 '21.
The trends continue higher for the overall SP 500.
Some sector analysis needs to be added to this.
Summary / conclusion: None of this data is a precise timing tool for the market, so be careful using it as such. The big news this week was the spike in the 10-year Treasury yield to 1.61% after a weak Treasury auction, but which finished the week at a reasonable 1.45% on late Friday afternoon.
This blog wrote about the rising 10-year Treasury yield two weeks ago, when the key yield closed right at 1.20%.
That being said, the market doesn't like rising interest rates.
It's a wet blanket for sure. I'm just wondering when mortgage rates and housing start to feel this – probably not for a while longer.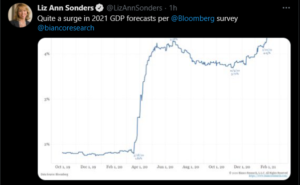 Here is a post from LizAnn Sonders at Schwab on the upward revisions to 2021 US GDP forecasts.
"Growth is good" for the US stock markets, not so much for the US bond markets.
More to come this weekend.
Thanks for reading.