The headline to tonight's post isn't really an "earnings-related" topic, but the 10-year Treasury yield bottomed right around the Jackson Hole Fed conference in early August and closed at a near-term high tonight at 1.20%.
The lows in early August for the 10-year Treasury were between 51 and 53 bp's last summer.
That is a sizeable move in the Treasury, relatively speaking, from 51 bp's to 120 bp's.
The 12/31/19 10-year Treasury close was 1.91% – 1.92% and the spike high in March 20, 1.26% – 1.27%.
Nothing will throw a wet blanket on this market faster than higher interest rates and higher taxes (in my opinion).
SP 500 data (courtesy of IBES data by Refinitiv):
The forward 4-quarter estimate rose this week to $173.65 from last week's $173.12 and December 31st's $159.02
The forward PE rose to 22.6x versus last week's 22.5x and December 31st's 23.6x.
The SP 500 earnings yield was 4.42% this week versus 4.45% last week and 4.23% at 12/31/20.
The "average" expected EPS growth for calendar 2020 and 2021 is 5% again this week.
One Chart This Week: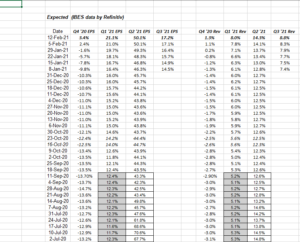 This chart shows that weekly revisions are still positive for the SP 500 for forward quarters, per the IBES data.
Upward revisions are typically a positive, all else being equal.
Watch the 10-year Treasury yield and what Administration wants to do with tax policy.
It's just my opinion but the many comments the last two weeks around the 2008 stimulus and the 2021 expected stimulus are neglecting one thing: while talking about Bernanke and the "gradualist" policy he followed following the Great Financial Crisis, no one is bothering to mention that the Obama Administration and Congress raised taxes early in that Administration.
President Obama blamed "the deficit" for the tax increase, but 10-yr Treasury yield was telling you then, and today, that the deficit wasn't and isn't an issue (yet).
A tax increase will have a dampening effect on GDP and corporate activity.
Talk all opinions for just that – opinions – and be skeptical about everything.
Walmart's earnings report next week typically unofficially ends the Q4 '20 earnings season.
Thanks for reading.