As long as the SP 500 stays above last week's low of 2,855, and the 10-year Treasury yield remains above 1.45% – 1.46%, it is probable that the SP 500 has a fighting chance to have a positive October return and lead a year-end rally.
Exactly one year ago at this time the SP 500 was heading to ts worst quarterly correction since Q3, 2011 (?) when it fell 20% from late September '18 to Christmas Eve and the day after, and then rallied sharply to end Q4 '18 down 13%.
Also, Q3 '18 SP 500 earnings growth was 25%, so Q3 '19 is lapping the toughest growth "comp" of the 2018 tax-aided growth.
Here's some other thoughts on the 3rd quarter, 2019 earnings season from other commentators:
Jeff Miller – Dash of Insight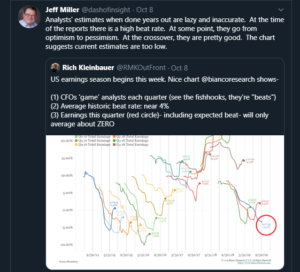 Posted October 8th by Jeff Miller (@dashofinsight).
Earnings Scout: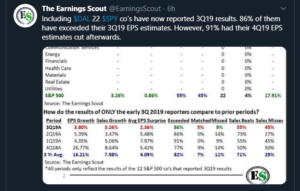 From @EarningsScout, this was posted Thursday, October 10th, after Delta Air Lines reported this morning. Delta did guide below the midpoint of Q4 consensus. The 91% metric caught my eye.
David Templeton, Horan Capital 
https://disciplinedinvesting.blogspot.com/2019/10/stocks-responding-to-improved-earnings.html
David linked the blog "Disciplined Investing" to his tweet, with one of the graphs attached: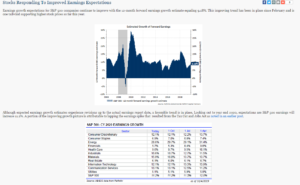 Most are skeptical of the current 2020 SP 500 EPS estimates.This blog has talked about 2020 here and all back in July, here. This blog starts to pay attention to the next year typically in April – May every although the trade talks complicated everything this year. That strategy worked well in May, 2016, but less so in 2017 with expectations of the tax cut. Never thought we'd see both a 23% SP 500 EPS earnings growth rate in 2018 AND a decline in the benchmark of 4.5% that year. Talk about PE compression…
Bespoke:

Bespoke showing that only Utilities and Health Care are showing "positive" earnings revisions. Per Bespoke "While there are obviously some sectors where sentiment is more negative than others, the overall
trend across sectors is generally the same. Of the eleven sectors, the only two with positive analyst EPS revisions spreads are Health Care and Utilities, which both have little exposure to tariffs. "
Despite the market pessimism, here is another perspective from Bespoke: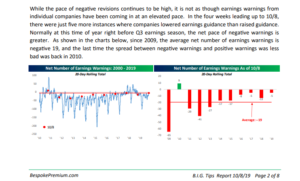 The key point from this graph is that warnings well below average. (Like that…)
This graph on "revisions spread"

This Q3 '19 is at "the extreme side of negative earnings revisions" per Bespoke. That portends well for Q4 '19 returns at least in terms of expecting modest positive returns.
Summary / conclusion: It has been remarkable (in my opinion) the degree that the SP 500 has become overbought and then oversold in the last 18 months, and really since April's and July's peak SP 500 prints, and despite the "forward 4-quarter" estimate struggling to expand or grow, which allows the SP 500's PE to expand, Q3 '19 SP 500 earnings are well positioned to report good numbers despite the market pessimism.
Financials got a bump this week from the steepening yield curve; hopefully Q3 '19 earnings will support the continued rally.
The Industrial sector too is poised to rally although Delta's (DAL) cautious guidance yesterday (below midpoint of consensus) might dampen the Transports.
While Q3 '19 earnings will help assuage the anxiety, the real numbers to watch will be watch will be changes to 2020 estimates by sector

Look at the sectors that have seen "positive" revisions to their expected growth rates for 2020: all the SP 500 sectors are seeing higher revisions to 2020 sector growth rates except Financials, Technology and Utilities.
That's a positive – let's see if the revisions hold through Q3 '19 earnings.
Thanks for reading.