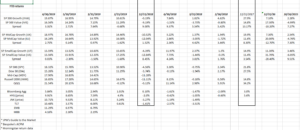 Because of the cacophony of "overvaluation" cries, it always pays to watch where the momentum is in the equity markets versus what is lagging.
This style-box analysis and rotation is another way to manage market risk.
Large-cap growth is still outperforming large-cap value and has been for a while, while mid-cap is closing the performance gap with large caps, but small-cap's still lag.
"Growth" is still outperforming "value" across all the market-cap segments although small-cap value is also narrowing the performance gap.
Throwing this spreadsheet up every 6 weeks forces me to keep an eye on these asset classes that are outperforming and under-performing. There is a "reversion to the mean" aspect to this analysis.
Summary / Conclusion: I'll never forget the late 1990's and the "one-way" direction of large-cap growth and Tech which left everything behind after the Long-Term Capital Management Crisis in the fall of 1998. Smallcaps started to under-perform dramatically in 1997. Large-cap Growth and Tech became like a vortex that swept everything up in its path as "value" and everything besides the top 10% of the SP 500 by market cap lagged badly.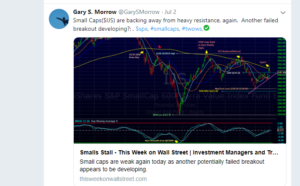 Gary Morrow, one of my favorite technicians, who posts his work on Twitter (@garysmorrow), LinkedI and This Week on Wall Street, noted recently how the IJS (small-cap value ETF) keeps getting rejected at resistance.
Wait for the breakout for IJS, and then it might be time to own the IJS relative to the large-cap universe.
It's interesting that as the SP 500 has made a series of new all-time highs the last weeks, FAANG (Facebook, (FB), Amazon (AMZN), Apple (AAPL), Netflix (NFLX) and Alphabet (GOOG/GOOGL) have not yet made all-time-highs, so we are starting to see the first part of under-performance of large-cap growth ? Let's see what Q2 '19 earnings look like for the subset.
Microsoft – not part of FAANG – and client's largest holding – has been keeping up with the all-time-highs in the SP 500.
It's still a large-cap growth market but hopefully this update will keep you informed of when that changes.
Thanks for reading. Have a wonderful 4th of July.