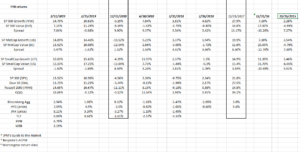 What's interesting about the Style Box update the last 6 weeks is that Small and Mid Cap Value are starting to close the underperformance gap between it and Growth.
Large Cap Growth's premium to Value has widened out substantially again in the last 6 weeks.
That Growth premium might have something to do with this i.e. yesterday's post on expected 2019 EPS growth for the top 10 SP 500 stocks.
Value hasn't had a substantial performance premium to Growth since 2016.
Thanks for reading,