Bank of America upgraded Apple this morning, sending the stock up $4 – $5 in the first good day for the US equity indices in a week.
However, let's take a look at the forward EPS and revenue revisions:
First, the Apple EPS revisions for the next three fiscal years: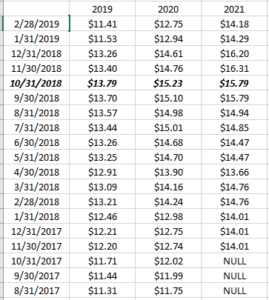 Highlighted for readers is the peak in Apple's forward EPS estimates as of late October, 2018.
What is interesting is that fiscal 2019's EPS estimate of $11.40 (as of 3/11/19) is now lower than the estimate for 2019 as of Sept 30, 2017. Basically 20 months of upward estimate revisions have been erased in 5 months.
The Apple revenue revisions: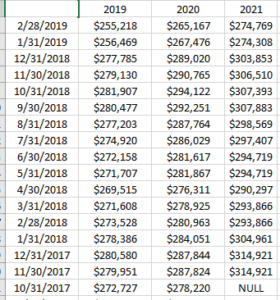 (Source: IBES by Refinitiv)
Apple has been here before.
If you look at the past two big corrections in Apple, the first started in mid-2012 amd ot took nearly 24 months for the stock to make a new all-time-high, and then the second correction began in mid-2015 and it took another 21 – 24 months for the iPhone giant to make a new all-time-high, and remain there.
Apple's EPS decline in fiscal '19 is currently estimated at -4%, while Apple's EPS fell 10% in 2013 and 9% in 2016.
If Apple's earnings fall 10% this year the correction will be exactly in line with the two previous earnings declines.
What about the dividend ? A recent story was read about Apple's dividend and it had some merit. Apple's free-cash-flow spend on the dividend is in the low 20% range (meaning that 20% – 23% of free-cash-flow is used for the dividend each year) and Apple generates roughly $55 – $60 billion in free-cash-flow per year. Let's say Apple wants to distribute half of free-cash in the form of a dividend, there could be substantial upside room for the dividend payout since at current levels, Apple's total dividend payout in dollars is just $12 – $13 billion per year. At a 50% payout (and i dont think it will ever get that high anytime soon), that would mean $30 billion is spent on the dividend. However a $20 billion annual dividend is roughly 33% of total free-cash-flow and in line with other corporate dividend payout ratios (as a percentage of free-cash-flow).
Apple's valuation: Morningstar has a fair value or intrinsic value estimate on Apple of $200 which seems pretty reasonable given their assumptions.
Summary / conclusion: A big chunk of Apple was sold in the Spring of 2018 between $160 – $170 per share based on a comparison of Apple's cash-flow and free-cash-flow to net income (article here) although Apple was kept in taxable accounts which had a big unrealized gain in the shares. My biggest worry for the stock is that the hardware giant takes years to transition to the Services model and HealthCare vertical revenue and EPS growth remains somewhat stagnant. Morningstar assumes "mid-single-digit" revenue growth for Apple for the next 5 – 10 years although revenue growth is expected to decline 4% this year too.
Investors are enamored with the cash position and they should be as it allows the share repurchase plan to be on autopilot for years.
Although its not an apples-to-apples comparison (no pun intended) i cant help thinking of the Tech giants of the 1990's that have struggled to transition to the new Tech paradigms. My doubt or skepticism is that it isn't that easy to reinvent a business model – to transition from Tech Hardware to Services – just by snapping the fingers. And what's truly amazing is that Apple has made the progress they have in the last few years. Tim Cook deserves a lot of credit for that.
This is just one opinion, take it with a substantial amount of skepticism.
The $140 – $142 lows from late December '18, early '19 would be interesting again from a technical perspective, but it will depend on what estimate revisions look like and what guidance is for the giant.
Generational growth stocks tend to peter out slowly (look at GE) and Apple is in far better financial  shape than GE. The Services business model is far more sustainable than Tech Hardware.
Apple went from a top 5 position for several years through May '18 to not even the top 25 today.
Thanks for reading…