Here is the change in the 2019 SP 500 "expected" earnings growth by sector the last 7 months.
Here is what really surprised me though: check the trends in the SP 500 revenue estimates since the market peak in late Sept '18: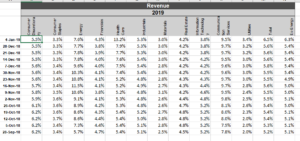 Since the market top in late Sept, the "estimated" 2019 revenue growth has actually been revised higher, both for the overall SP 500 and the SP 500 "ex-energy".
Both of these charts / tables are compliments of IBES for Refinitiv.
HealthCare's January '19 revenue estimate looks like a bad data point, but note the improvement in Communication Services.
And don't forget this is all after Apple's warning.
Thanks for reading,