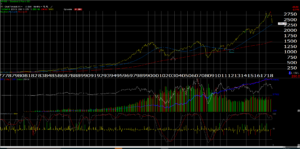 2011 was the last year the SP 500 has seen the 50-month moving average. Here was last night's post comparing this current correction with the 2011 and 2015 – 2016 drawdowns.
Kinda ugly this quarter and looking at the stochastics, the SP 500 is at the same level as 2015 – 2016.
Fundamentally, we must see a slew of earnings pre-announcements after the first of the year, or the SP 500 remains pretty reasonably valued. The pressure on the forward 4-quarter SP 500 earnings estimate is not out of the ordinary (yet).
Thanks for reading.