SP 500 earnings data: (Fwd estimate from IBES by Refinitiv)
Fwd 4-qtr est: $169.58 vs last week's $170.53
PE ratio: 14.25x
PEG ratio: 1.92x
SP 500 earnings yield:  7.02% vs last week's 6.56%
Year-over-year growth of fwd est: 7.4% vs last week's 8%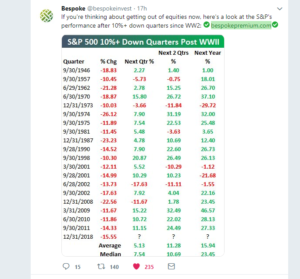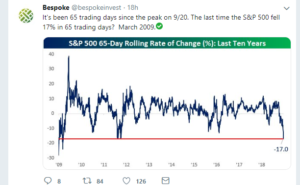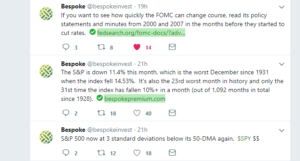 Summary / Conclusion: As long-time fans of Bespoke's work, the last tweet of the tweet deck above, notes that the SP 500 is trading at 3 standard deviations below its 50-day moving average. The SP 500 seems so "oversold" here, but if forward earnings start to roll over, it could get worse.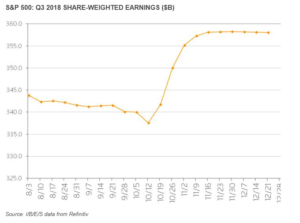 This chart from IBES by Refinitiv shows exactly how the quarterly pattern works for SP 500 earnings: there are negative revisions to SP estimates as the end of the quarter is approached and then once the banks start reporting earnings (usually the Financials start reporting first and are mostly done by the time Energy and Industrials start reporting), there is this rapid acceleration in the y/y growth rate, as "actual" earnings beat the "estimate". Although Q3 '18 earnings growth has leveled off the last 5 weeks, if we looked at Q4 '18, we'd see an expected slowing from +20% to 16% for Q4 '18 as investors lap the last easy "quarterly comp" from tax reform.
Because of the corporate tax rate reduction in 2018, the SP 500 earnings growth rate was inflated, but will return to a more normal 8% – 10% in 2019.
Perhaps the SP 500 is set for a slough of negative earnings pre-announcements in late December, early January '19. The SP 500's action is sure telling us there is slower growth ahead, whether economic or earnings-related or both.
Here is what's fascinating though: when the SP 500 peaked in late September '18, the forward estimate was $168.72; today, that same estimate is $169.58. The point being that even after the SP 500 index has fallen 15%, the forward estimate on which it's valued, is actually slightly higher.
2019's SP 500 earnings growth has already declined from +10.2% on October 1 to +7.2% as of December 21 '18 so growth expectations have come down already for next year. But either SP 500 forward earnings have to fall further and faster over the next 4 weeks, or the SP 500 seems dramatically oversold.
IF SP 500 earnings growth does hold up for 2019, this December '18 market action will have been – like 2011 and early 2016 – a correction in an ongoing bull market.
The SP 500 earnings yield ended Friday at 7.02%.