Readers know my appreciation of Bespoke's work, the firm started by Paul Hickey and his crew after coming out of Laszlo Birinyi's shop (and Laszlo published some pretty good research as well) and last Friday's weekly "Bespoke Report" was no disappointment for subscribers:
On Market breadth: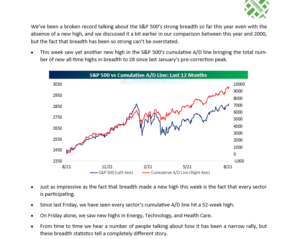 On retail investor sentiment: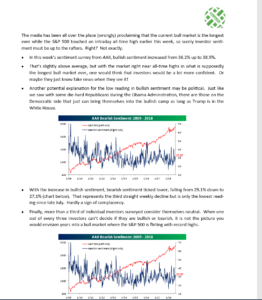 (Charts and comments within the charts courtesy of the Bespoke Report, published every Friday night each week.)
Analysis / conclusion: Note the last bullet point of the sentiment charts – it sums up my own thoughts precisely.
This blog's piece written on July 20, 2018 relating to market sentiment wasn't as articulate as Bespoke, but the "sentiment factor" continues to play a vital role in keeping a bid under stocks in my opinion, that and SP 500 forward earnings estimates too. 
You've got a lot of things going right for stocks here:
The 10-year and 30-year Treasury yields can't seem to rise, which is a positive for stocks
Forward SP 500 earnings estimates are still expected to grow 10% in 2019 against the 20% "comp" growth and tax-rate aided growth of 2018;
Investor sentiment remains tepid at best, and although AAII's survey might have lost some of its cachet over the years and newsletter writers are thought to be more bullish, the survey is still widely followed;
As Bespoke tells you, the consistent highs in market breadth in 2018 despite the 7 month consolidation in the SP 500 (price) is a definite plus for expected forward returns;
My own take on all of this is that with the market "quietly" making new highs the last two days, the "1998" residue lives on. 
Breadth and sentiment – two often-overlooked factors of  market pundits.
Thanks for reading…