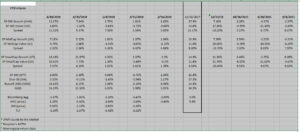 While the large-cap growth performance premium continues, the difference between the mid-cap growth and value styles has narrowed since 12/31/17.
The highlighted box is 2017 returns, which was a strong year for large-cap growth and momentum.
What needs to be thought about for clients is what changes this dynamic ?
Maybe higher interest rates ? Certainly in 2000 it was simply an 18-year bear market ending.
The other aspect to this discussion is how – on the part of a retail investor – simply indexing in an SP 500 fund can be quite deceptive. The benchmark's returns are always being driven by the heaviest market-cap weights.
The articles cannot be located, but somewhere in the blog's archive, the question about whether the SP 500 is simply another large-cap growth fund was addressed.
Analysis / conclusion: Tech and momentum was sold too early for clients this year, but some of the proceeds went into small-cap value (IJS) for clients. Note the reversal of fortunes for small-cap value from Q1 '18 through last Friday, August 10th, 2018.
Tech momentum continues to surprise but it's a secular bull market for US stocks.
Be careful out there.
Thanks for reading…