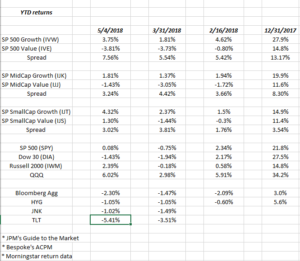 Here is the regular "style-box" update for readers that like to stay abreast of the "value vs growth" debate.
After 2017's substantial large-cap growth premium to other styles, 2018 has returned to a more normal market.
What is interesting is that both small-cap growth and value styles have positive returns year-to-date, whereas both mid and large-cap value styles have negative returns YTD as of May 4th, 2018.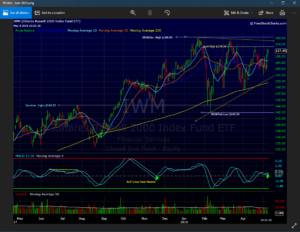 The above chart was put together for this blog by Gary Morrow, who runs a hedge fund in San Luis Obispo, California, and is a pretty good technician. Gary and I write together on Jim Cramer's TheStreet for a few years in the early 2000's. Ive studied and benefited from his technical analysis for a while.
Here is Gary's commentary on both the SPY and the IWM, (The IWM chart is featured above):
————–
Russell Remains Near The Top End Of Its Range
Back in early February the Russell 2000 Index suffered its worst two week decline since the January 2016 sell off.  The IWM fell over 8% between January 29th and February 9th before ending the flush with a spike low.  The Russell has been consolidating since while remaining inside that two week range.  The IWM though, unlike the SPX, has spent much more time near the top of the 2018 range.  This week the index is within easy striking distance of the April peak as it continues to take on heavy supply near the $161.00 to $158.00 area.  This important zone has capped the previous four monthly highs.  A clear break above $161.00 would end the current consolidation and could spark a fresh rally leg.  While continuing to point toward and upward resolution, the IWM remains range bound.  An key initial hurdle will be the April high($158.40).  Through the remainder of this week that is a key level to watch.
By contrast, the S&P 500 Index has spent the bulk of six weeks near the lower band of its January 29th to February 9th range.  While the IWM was able to hold well above its 200 day moving average as May began the SPY tested it once again.  In the aftermath of the early February flush investors have certainly shown more interest in the small caps than the large caps.  While both the SPY and IWM are still range bound the Russell is set up well to lead a fresh rally leg.  We could see more sideways action before that happens though.
Thanks for reading…