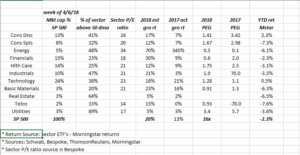 A reader asked about Sector P.Es a few weeks ago – haven't updated the above spreadsheet in a few years:
Financials – big jump in earnings growth rate, but i do think a lot of that is Berkshire's gain. Berkshire is now the 5th largest holding in the SP 500 by market cap.
Energy still shocks me – the growth rate has been through the roof the last two years and the sector has gone nowhere, no doubt due to Exxon's and Chevron's percentage of the sector.
Technology should be fine in Q1 '18, but a lot of the big cash repatriation should already be in the numbers.
Don't ignore the sector as a percentage of the SP 500 market cap either: remember, Technology, Financials, Health Care and Consumer Discretionary (which is really being powered by Amazon and Netflix) is 67% of the entire SP 500's market cap. Tech, Financials and Health Care is is 54%.
When earnings start, focusing on the companies that are executing – the big buyback programs DON'T seem to be driving stock prices unless revenue and execution are present.
Out this week with more on this.
Thanks for reading.