Every so often, readers are updated on the SP 500's sector rankings in terms of market cap weight and earnings weight.
What surprised me more than Tech's 25% weighting currently (versus its all-time-high of 33% weighting in March, 2000) was the market cap vs earnings weight of the Energy sector.
While Energy's market cap weight is 5.5%, the sector's earnings weight is just 3.2%. The y/y growth rates look good for Energy but it's a small denominator.
As the bottom of the spreadsheet shows, the 3 largest sectors of the SP 500 comprise 54% of the SP 500's market cap currently. The top 5 stocks in the SP 500 are roughly 12% of the SP 500's market cap.
The benchmark is nothing but a large-cap growth fund in drag, a point raised on this blog 6 months ago.
Is Tech poised for a longer-term breakout ?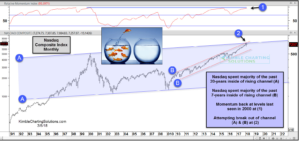 Chris Kimble Solutions, a technical analysis service, published this chart this weekend on Twitter and relative to Tech's market cap weight, I thought readers might get some benefit from the look.
Thanks for reading.