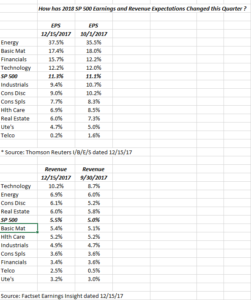 Leaning bearish into 2018, these numbers were somewhat surprising:
1.) Revisions for next year have been positive for both year-over-year SP 500 EPS AND SP 500 revenue growth.
2.) The 11% expected SP 500 earnings growth for 2018 has been stable for the last 18 months – it hasn't changed much at all since mid-'17. Let's see if tax reform can do so.
3.) It's pretty clear the cyclical sectors are leading the way again or are expected to lead the way in '18.
Frankly, Ive been looking for reasons to be bearish or to have "tempered enthusiasm" but these numbers are pretty solid.
More to come over the weekend.
Thanks for reading.