"Damn it – don't ever trust your instincts" – John Cusack as Martin Blank in the all-time-great "Grosse Pointe Blank"
Here is a Marketwatch article written by Mark Hulbert on Amazon. I dont know Mark, but while the article might be accurate on the direction of Amazon's stock – at least for the near-term – the logic is flawed.
Here is a chart of Amazon: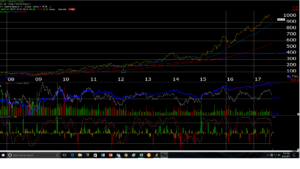 Not trying to pick on Mark, but Amazon has been flagged by a lot of analysts, Jim Cramer, technician's, etc. as looking vulnerable, and all have been right and will likely be right, for a little while longer.
Here is a spreadsheet thrown together tonight on Amazon showing trends in EPS and revenue estimates:
Amazon opened the year trading at roughly $750 and then peaked at $1,083 on July 27th, even as EPS estimates were falling and revenue estimates were somewhat "mixed".
Actually the stock peaked right around the time positive sentiment went off the charts on Amazon, and after the Whole Foods acquisition.
However, here's the thing: the only metric that has ever really mattered with Amazon is revenue growth, and forward revenue estimate revisions have turned higher once again (See the spreadsheet.)
Amazon earnings estimates have been volatile for years based on Amazon's investment cycles.
Amazon is fine, and with "grocery" being a substantial chunk of the $5.5 – $6 bl in US retail sales, and 53% of WalMart revenue, the Whole Foods deal is going to up-end the US grocery business.
Amazon has good support in the $900 area. Remember, from late 2015 through the first week of February, 2016 Amazon corrected 32%, from $700 down to $470.
This correction is mild for Amazon.
———————————————–
SP 500 earnings (by the numbers): 
Forward 4-quarter estimate: $138.40
P.E ratio: 17.6(x)
PEG ratio: 1.77(x)
SP 500 earnings yield: 5.67%
Year-over-year growth of forward estimate: +9.95% (almost 10%)
Analysis / conclusion: The year-over-year growth of the forward estimate is almost 10% – should start a betting pool to see the week the estimate gets over 10%.
Thanks for reading.