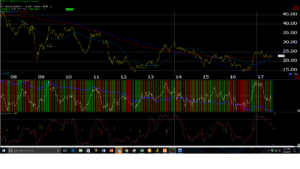 Looking at the "weekly" chart of the TNX, the CBOE 10-year Treasury Yield Index, Id say the 10-year Treasury yield is at a critical level.
A trade much lower in yield toward 2% and I'd say that the uptrend that started last summer is over.
For those of us that lived through October, 1987, the weaker dollar that year led to higher commodity prices, particularly crude oil and the fear of much higher inflation.
The weak dollar hasn't done a thing for inflationary expectations this year.
Given the chart, I'm expecting higher yields and lower Treasury prices the next few weeks.
Still long the TBF, have been for a while.
Thanks for reading.