Interest Rates: 
The yield on the 10-year Treasury rose 15 bp's this past week, a sizable move relative to the last few years.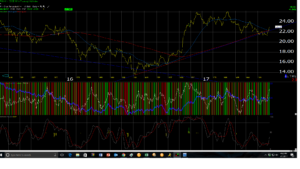 The yellow line is the 10-year Treasury yield and it looks to be headed higher.
---
The Quarterly Bump and the Forward Earnings Curve:
Each week, this blog posts for readers the forward 4-quarter earnings estimate, which might be one of the better leading indicators available to the ordinary investor, and yet it gets very little coverage or discussion from the mainstream media.
As we roll into July this weekend, next Friday, we'll see the increase or "quarterly bump" in the forward estimate, which happens every quarter.
We can get a peek at it now, by looking at the "forward earnings curve" all of the data from/courtesy of ThomsonReuters I/B/E/S:
Q1'18 to Q4 '18: $147.02
Q4 '17 to Q3 '18: $143.08
Q3 '17 to Q2 '18: $139.13
Q2'17 to Q1'18: $134.73 (this is the last week we will see the estimate for 2nd quarter '17 through 1st quarter, 2018)
Next week, if the above data is reasonably accurate, the forward 4-quarter estimate should approximate $139, a nice $5 increase from this week's print. It may be reduced a little during the coming week depending in some pre-announcements, etc. but it should be close to the $138 – $139 level, which bodes well for the market overall.
——————————————————————-
Thomson Reuters data (by the numbers): 
Forward 4-quarter estimate: $134.72 (last print for q2 '17 through Q1 '18 as we roll into Q3 '17 – Q2 '18 next week)
P.E ratio: 18(x)
PEG ratio: 1.82(x)
SP 500 earnings yield: 5.56%
Year-over-year growth of the forward estimate: +9.75%, or the highest growth since mid-May '17.
Analysis/Conclusion:
Technology and semiconductors look a bit wobbly right here, something Jeff Miller noted way back in April '17, around Apple. (Long Apple, overweight Tech).
The high multiple Tech stocks are sensitive to higher interest rates, so some "P/E compression" could happen around FANG if rates rise rapidly, but this has been a worry since the equity market bottomed in early 2009. Besides, the 10-year Treasury yield rose roughly 100 basis points from early 2013 to late 2013, and the SP 500 rose 32% that same year.
The Technology sector earnings need to be looked at closer for readers. That will be done this weekend.
Financial's had a heck of a rally last week, closing the under-performance gap with the SP 500, not entirely, but partially.
If interest rates rise, I expect the dollar to rise with the Treasury rates, and that could take some of the steam off the Emerging markets trade.
It's a long weekend – enjoy the downtime, and enjoy the 4th of July holiday.
Thanks for reading.