Biotech's and AMGN were on fire in 2013, with AMGN up 32% in the calendar year while the Biotech ETF (ticker – BBH) rose 66% for the 12 months ended 12/31. Clearly, AMGN lagged the great majority of biotech's names as the group was on fire.
The flip side of that argument is that AMGN doesn't sport the rich valuation that the other high-flying biotech's do, and in fact it is often considered more of a large-cap pharma stock, than a racy biotech by some investors.
In our thinking, we are currently at a crossroads with the stock. We sold some AMGN last Spring near $104, missed the spurt to $115, but the stock then (and still) has flatlined for 9 months, trading between $105 and $120.
Fundamental analysis:
In our view, with the acquisition of Onyx (key drug Prolia)  for the AMGN portfolio, the company is trying to transition from a return of capital story (basically buying back a boatload of shares) to a growth company that is now trying to reinvigorate its pipeline.
One brokerage company thinks AMGN could earn $9.50 per share in 2015, versus the $7.50 expected in 2013, which would be a 26% – 27% cumulative growth rate over the next two years.
Since q4 '11, here is the ending shares outstanding each quarter, for AMGN:
q3 '13: 766 ml
q2 '13: 764 ml
q1 '13: 764 ml
q4 '12: 778 ml
q3 '12: 783 ml
q2 '12: 785 ml
q1 '12: 799 ml
q4 '11: 860 ml
Here is the dollars spent on share buybacks the last 4 years:
2013: $832 ml (through 9/30/13)
2012: $4.6 bl
2011: $ 8.3 bl
2010: $3.7 bl
The fact is AMGN hasn't bought back any shares for the last two quarters, and as of 9/30/13, just 66% of TTM free-cash-flow is being returned to shareholders.
Hence the company now being in "transition".
EPS growth is expected at 14% in 2013, and then 9% in 2014 and 2015, with the stock trading at 15(x) and 15(x) cash flow. The stock looks cheap on P.E – to growth basis, but more expensive on a cash-flow basis.
Technical Analysis (courtesy of Gary Morrow, Yosemite Asset Management, Inc.):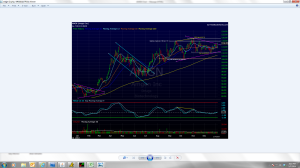 Shares of Amgen are poised for a move into new all time territory.  Today the stock gained a little over 2.5% on accelerating trade, a jump that pushed the stock past its December highs.  While still well within its previous five month range an upside resolution to this volatile consolidation now appears likely.     
Amgen moved into a higher range after surging over 7% back in late August.  The Onyx acquisition and a Piper Jaffray upgrade sparked the high volume advance but the stock was unable to sustain the momentum.  AMGN put in a higher high in September and again in October and November but a new leg higher was not in the cards.  The result was a rather choppy sideways pattern that held in a relatively tight $10.00 range.
Early on in the pattern AMGN filled the huge August 26th news inspired gap.  The stock remained well above this level, just above $106.00, during the second half of the pattern.  This was an encouraging sign for the bulls while indicating that an upside resolution was becoming more likely.  Over the last six weeks the action has been bound by a much tighter range.  Another bullish indication was given when shares held the November lows in mid December.  As Amgen moves higher the $110.50 area, which includes multi week lows in November, should be considered major support.
Amgen's rally today should be encouraging for investors but the stock is not yet in breakout mode.  A close above the $118.00 area, which held the September and November highs, would be very bullish.  Once past this layer of supply the stock will be set up well for a move into new all time high territory.  The current highs, set back in November at $119.70, are unlikely to hold a new bull leg back.
 Summary / Conclusion: Given Gary's technical commentary, we are willing to give AMGN the benefit of the doubt until the earnings report scheduled for the last week of January, '14. The point of our fundamental analysis is that the growth drivers are changing for AMGN, so that changes the calculus of holding the stock. AMGN is transitioning from a "return of capital" story to a pipeline story. Sometimes drugs fail and the FDA process is involved. Share repurchases can be done at any time at the discretion of the company. AMGN is a cheaper way to play the red hot biotech sector. For how long that lasts, remain to be seen.