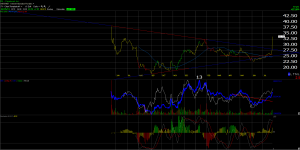 Facebook (FB) is up sharly this morning after report very strong financial results last night, beating consensus revenue and earnings per share estimates handily, on stronger-than-expected mobile ad revenue.
We've been accumulating FB shares since November '12, and have written about FB here on this blog, May 27, 13, April 30, '13, and then again on March 22, '13.
Here is our SeekingAlpha FB earnings preview published earlier this week.
FB is a stock with a growth-stock valuation, but we thought that the company was in the earlier stages of growth, and that it would eventually exceed its IPO price of $40 per share.
Morningstar has an intrinsic value estimate on FB of $34, which we think is conservative. Our own internal model values FB closer to $75, which we think is too aggressive. Adjusting for the flaws and assumptions in all valuation models, we think FB would be getting fully-valued closer to $50 per share.
No question this was a strong earnings report for FB, even though Q2 '13 earnings for technology has been rather subdued in general.
The late January '13 high for FB was $32.51, and we would expect the stock should find good support near that price level.
Today's trading action represents a clear breakout for the stock, leaving a lot of doubters in it's wake. We think the stock will work higher over time, but we will be fully prepared to take gains along the way.
Thanks for reading. We'll take a victory lap on FB's trading action today.
Trinity Asset Management, Inc. by:
Brian Gilmartin, CFA
Portfolio manager