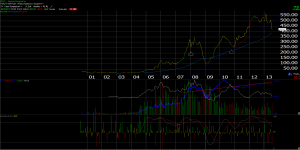 ISRG held their regularly scheduled earnings call tonight and the news continued to be bad. Revenue guidance was cut from flat to 7% for FY '13, which is well below historical growth rate.
The stock is going to need more time.
Per the above chart, the stock will likely open up below the 50-month moving average near $388 – $389 on Friday morning, which is not a positive technical occurence.
We never bought any ISRG on the initial drop, but the news and headline flow tells me this stock and company will require more time to work through the issues.
The stock needs to stabilize first, then we will get a longer-term bounce, and then a re-test of this area, depending on where we settle the next few days or week.
We will update our internal, fundamental spreadsheet next week, and see what the various valuation measures look like after the analyst's finish their revisions.
ISRG could be broken. I dont suspect it is, but we have to give it more time to see what happens with the numbers.
Trinity Asset Management, Inc. by:
Brian Gilmartin, CFA
Portfolio manager