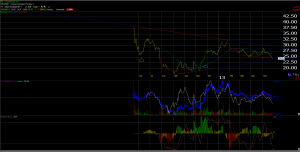 As the above chart indicates, FB remains locked in its recent trading range, after bottoming in the high teens in August, September, 2012.
Fundamentally, the biggest issue (despite the headlines) is that FB has ratcheted up expense growth dramatically this year, stepping all over earnings per share (EPS), much the same as Amazon has done the last few years, even though FB's revenue growth continues to see higher revisions and an upward slope.
Don't believe the headlines: while we don't like to see EPS estimates getting reduced, the fact that FB's revenue estimates continuebto see higher revisions, is an unambigious positive, and tells me that the business is intact.
Here is the trend in FB 2013 and 2014 EPS estimates (as of May 27th, 2013), courtesy of ThomsonReuters data:
5/27/13: $0.57 and $0.77
4/30/13: $0.57 and $0.78
1/31/13: $0.58 and $0.80
10/31/12: $0.64 and $0.83
7/31/12: $0.63 and $0.81
5/31/12: $0.65 and $0.88
Here is the trend in FB revenue estimates for the same time period, i.e. 2013 and 2014 calendar years:
5/27/13: $6.72 and $8.50 bl
4/30/13: $6.65 and $8.44 bl
1/31/13: $6.65 and $8.47 bl
10/31/12: $6.4 and $8.1 bl
7/31/12: $6.38 and $8.26 bl
5/31/12: $6.48 and $8.67 bl
The biggest worry was FB's "mobile strategy" which was addressed in September, 2012. Revenue estimates were being slashed through last summer and since Mark Zuckerberg and management have addressed the issue, 2013 and 2013 revenue estimates have been revised higher, albeit at a slower upward rate.
The key metrics in terms of engagement and users continue to trek higher.
For 2013, EPS growth has been reduced from 23% to 8% in the last 3 quarters, while expected 2013 revenue growth has been revised from 28% to 32%.
2013 will be a significant investment year, but we expect FB's revenues to double from 2011's $3.7 billion, by early to mid-2014.
That is good growth.
Trinity Asset Management, Inc. by:
Brian Gilmartin, CFA
Portfolio manager