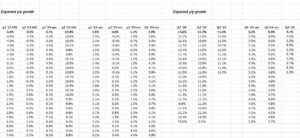 Clients know I'm not a big fan of vacations, since even with a laptop and an iPhone, one can feel very unplugged from the capital markets.
Last Thursday, I snuck off to Lake Okeechobee, Florida to do some bass fishing with a long-time high school friend, and as of Wednesday afternoon last week, my thought was "I'll be back in plenty of time for CPI and just sweat the jobs report on Friday morning."
Well, by Thursday afternoon getting off the plane and heading to Clewiston, Florida, it was "all Silicon Valley Bank (SVB), all the time."
The improvement in average hourly earnings last Friday in the February '23 jobs report continues to portend an improvement in the inflation data although "services PCE" seems to continue to be an issue. CPI data this morning – looking at year-over-year growth – continues to decline, which is good news, but the CPI and the PPI are the narrowest of the inflation indices.
SP 500 earnings data: 
The above table starts with the 9/30/22 data, and readers want to look at the Q4 '23 EPS data – it continues to improve in terms of expected growth and I do think that signals an accommodative Fed sometime this summer, or maybe sooner.
Despite the news on SVB last week, the "forward 4-quarter estimate" rose last week to $221.55, from $221.44, the first week of sequential increase in the data since January 6, '23;
The PE ratio as of last Friday's close was 17.4x versus 18.25x the prior week;
The SP 500 earnings yield jumped to 5.74%;
Q4 '22 earnings are pretty much done, thus the companies heard from this week and next will have February '23 quarter end.
Note in the table above that we want to watch what happens with Q1 and Q2 '23 EPS, which look negative now, and might get worse, but with earnings starting in a month, I wouldn't be surprised to see both quarters come in near "unch'ed" by the time the reporting is done.
Note too the 2024 data, to the right of the table: it's a little early to bet on that, but I'm more interested in the direction of the revisions than the overall numbers.
Summary / conclusions: 
Please excuse the late reporting of the SP 500 earnings data (compliments of IBES data by Refinitiv). Typically this update is written Saturday or Sunday every week.
This blog post in late January '23 highlights what early earnings projections are showing for late '23, and it's still positive. It's almost 8 weeks later and Q4 '23 expected EPS growth is holding up.
We will see what forward EPS growth looks like after SVB.
Take all of this with considerable skepticism, and past performance is no guarantee of future results. This data is typically updated weekly but I may or may not write about it, or update the analysis.
Technically, ideally I'd like to see the SP 500 regain it's 200-day moving average at 3,939 – 3,940. That's an important technical level.
Thanks for reading.