2019 SPY return: +31.22%
2020 SPY return: +18.37%
2021 SPY return: +28.75%
3-yr annualized return: +26%
2022 YTD return: -19.98%
Looking at the previous three years SP 500 total returns, the SP 500's YTD return as of June 30, 2022, doesn't seem that bad. It's truly amazing how fast we (as investors and consumers of financial media) have transitioned from "the real worry is inflation and the Fed" to "the real worry is a recession".
Nike's and Micron's earnings this week (particularly Micron's commentary) seem to be indicative of a rapid slowing US economy. Nike has been followed and modeled since 1995: here is a clip of the EPS revisions posted to the valuation spreadsheet after last week's earnings release.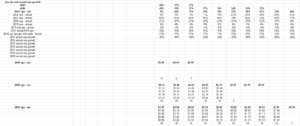 Nike reported their 4th fiscal quarter of 2022 this week: note the deterioration between Q3 and Q4.
Nike's expected EPS growth for fiscal 2023 has slowed from an expected 24% one quarter ago, to 4% after this week's release. Nike's North American revenue fell 5% y.y with fiscal Q4 '22, while EBIT fell 18%. (China has been negative for three quarters and was expected to be messy.)
Micron's numbers will be updated next week.
SP 500 earnings data: (All data sourced from IBES data by Refinitiv's This Week in Earnings and Earnings Scorecard): 
With the roll into July '22 quarter, the forward estimate is now $241.22 versus last week's $235.68.
The PE ratio as of Friday, July 1's close is 15.9x, versus last week's 16.6x;
The SP 500 earnings yield is 6.31% versus last week's 6.02%;
Neither Q4 '21 nor Q1 '22 did NOT reach the magic $55 level in terms of the bottom-up quarterly "actual" EPS numbers.
The quarterly bump in the forward SP 500 EPS number is strictly from riding up the earnings curve. Each quarter, another forward quarter is added on, and the trailing quarter, in this case the 2nd quarter of 2022, is removed, so the forward estimate now comprises Q3 '22 through Q2 '23, which might puzzle readers since we haven't even seen Q2 '22 readers yet.
2022 and 2023 SP 500 EPS rate of change: 

Looking at the above table the data starts to the right on April 1 '22 and as readers can see there has been little change to the numbers in the last 12 – 13 weeks, either for full-year 2022 or 2023 estimates.
Readers can also see the "rates of change" are slowing since – after Q2 '22 SP 500 earnings are reported – we begin to exit the COVID influence of the last 10 quarters and return to a more normal world.
And this is happening just as worries over a recession start to captivate the financial media.
Summary / conclusion: While expectations for Q2 '22 SP 500 EPS growth of 5% and 10% for revenue growth seem relatively modest, the expectations for Q3 '22 SP 500 EPS and revenue growth are 11% and 10% respectively, and those numbers are probably at risk. Too many companies, and noted economists like David Kelly at JP Morgan, have observed that the US economy weakened in June '22, but we just don't know the extent of that weakness.
It's hard to conceive of a current scenario where 2022 full-year estimates for the SP 500 don't decline over the next 4 – 5 weeks.
The question is, "Is that in the market today" or is there more downside for the SP 500.
I'd think at this point most investors would probably conclude that the SP 500 has discounted a shallow recession.
Take all this with substantial skepticism and a considerable grain if salt. Capital market conditions can change quickly. There was a sharp rally in longer-dated bond ETF's and the Treasury curve given the new watchword is "recession". This could all change next week.
The next big economic release is the payroll report July 8th and already the consensus "net new jobs added" is down near 235k – 250k jobs so consensus is beginning to factor in slower growth.
It's kind of discouraging that yesterday's improved core PCE data which came in better-than-expected, didn't generate a decent stock market rally to end the quarter. This was probably the best indicator that the discussion has shifted from inflation to recession.
The SP 500 did close back above the key May 20th low of 3,810, on July 1 '22. That seems to be an important level, but i would have preferred the 2nd quarter's close be above 3,810 rather than waiting a day.
Take none of this as a prediction or recommendation. It can change quickly without being updated.
Enjoy the long weekend. More articles coming on Sunday and Monday, July 4th.
Thanks for reading.