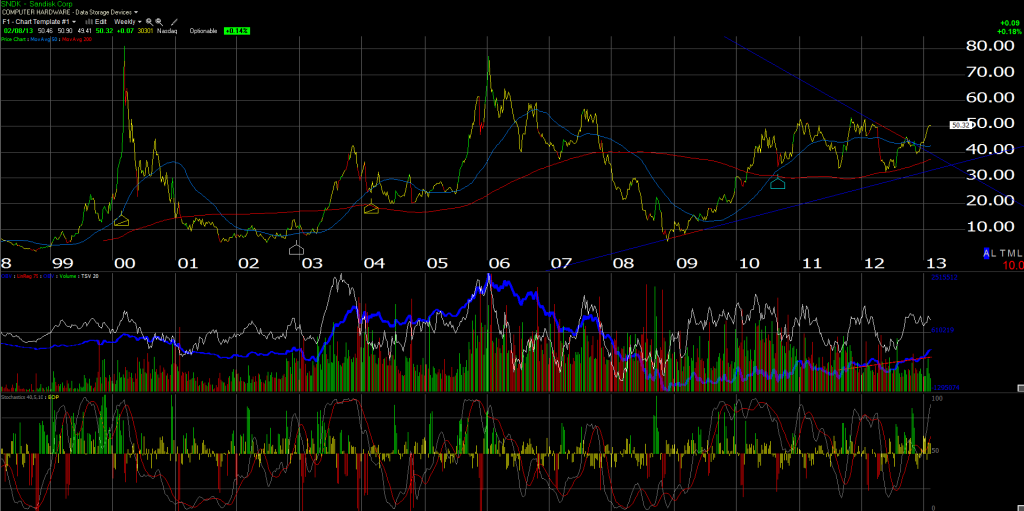 Sandisk reported earnings at the end of January that were quite strong. The stock ended Jan '13 up 14% for the month, far better than AAPL, and was our best "top 10" performer.
The tailwinds continue for the flash and SSD manufacturer: both the weak yen and very easy comp's through the June quarter, should keep a bid under the stock even with a tough market. A note out of Sterne Agee after the 4th quarter report details that every 10% depreciation in the yen is worth 400 bp's or 4% of gross margin upside for SNDK.
It was late in the March quarter of 2012 and then again the June quarter where SNDK fell apart. SNDK's forward 4-quarter estimate fell from $4.71 as of the Jan '12 earnings report to $1.87 after the April earnings report. That is ugly weakness.
The flip side of that is occurring today. SSD's are growing as a percentage of revenues and SNDK became an Apple supplier in mid-2012, plus the company is lapping those easy comp's.
Stay with the stock. We think there is more upside ahead. Our internal model values SNDK at $60 per share. We'd buy more at $45.
You want to be selling SNDK when the valuation looks great, i.e low p.e, low cash-flow valuation. Earnings are extremely volatile. If the forward estimate gets much above $5.50 – $6 per share, we'd be a seller.
Trinity Asset Management, Inc. by:
Brian Gilmartin, CFA
Portfolio manager