With the 5.3% decline in the SP 500 this week, the "earnings yield" jumped to 5.1% at Friday's close, reaching an earnings yield that hasn't been seen for the  key benchmark since February and March of 2020, or the pandemic correction.
Here's the weekly data:
The forward 4-quarter SP 500 EPS estimate rose this week to $223.66 from last week's $223.57;
The PE ratio is 19.6x versus last week's 20.8x;
As mentioned the SP 500 earnings yield jumped to 5.1% this week versus last week's 4.8% or the highest level seen in almost 2 years;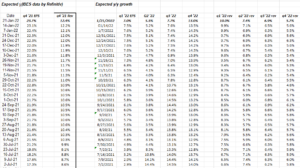 As readers know this data, from IBES by Refinitiv is my favorite table for "at-a-glance" look at changes in forward EPS and revenue growth rates for the SP 500.
For Q1 '22, which is what we're focused on today as Q4 '21 financial results get reported, the expected Q1 '22 revenue growth rate was revised a little higher as the Q1 '22 EPS growth rate nudged lower. Labor expenses are becoming an issue within the financial sector.
The next two weeks we'll know basically what Q4 '21 holds and that will impact Q1 '22 and full-year 2022 guidance.
Summary / conclusion: Netflix's earnings report should show investors that the market is much less forgiving. Revenue missed just slightly and operating income and the operating margin were light, hence cost pressures built, and that may be the story for 2022 or at least the first half of the year.
Microsoft reports Tuesday night and Apple Thursday night after the bell, thus 12% of the entire SP 500's market cap reports this week in the form of two stocks. (Another article this weekend will cover both companies and their expected earnings more in-depth.)
The mega-caps have held up the market for the last year. In fact it was September 1, 2020 when a lot of the mega-caps started to flag a little in terms of relative strength, particularly Amazon, which was up just 2% in calendar 2021. YTD in 2022, Microsoft is down 12% while Apple is down 8.5%, as of Friday January 21, 2022. Amazon is down roughly 14.5% YTD. (Individual total return calculations courtesy of YCharts.)
There are 6 trading days remaining in January '22. You'd think if we do get a bounce, one potential catalyst might be the two largest stocks in the SP 500, which have – in part – held up the index for the last 12 months, as much technical damage was done in the smaller asset classes.
Remember, take everything you read here with great skepticism. This is not advice and past performance is no guarantee of future results.
A great 2021 for the SP 500 has turned sour quickly.
Thanks for reading.