Here's the table on how "expected" Q4 '21 SP 500 revenue has changed by sector in the last 90 days: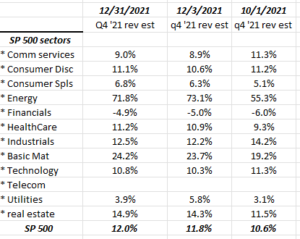 SP 500 expected revenue growth for Q4 '21 has ticked higher from 10.6% to 12% over the last 90 days.
The 3 sectors with downward revisions are Communication Services, Industrials and Technology, which comprise about 49% of the SP 500 market cap.
The sectors with the strongest upward revisions over the last 90 days are Basic Materials, Energy and Real Estate, which 3 sectors comprise 8% of the SP 500.
Here's a quick quiz for readers: Since Q4, 2011, what's the "average" quarterly EPS growth rate for the SP 500, through Q3 '21 (or 40 quarters) ?
Answer: 11.1%
What's the "average" SP 500 quarterly revenue growth rate since Q4 '12 ?
Answer: 4.5%
Here's the 2022 estimated EPS and revenue growth rates for the SP 500 by quarter: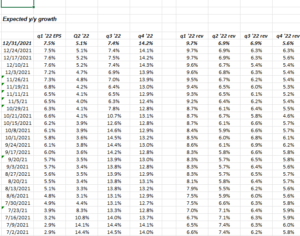 The average, expected, SP 500 EPS growth rate as it stands today for the 4 quarters of 2022 is 8.6%, while the average, expected, revenue growth rate is 7.3%.
We're back to seeing average years, but in reality it can be anything but ordinary.
(All data sourced from IBES by Refinitiv)
SP 500 key data: 
The forward 4-quarter estimate this week is $216.14 vs $216.08 last week. Next week, with the quarterly roll from Q4 '21 through Q3 '22 to Q1 '22 – Q4 '22, the forward estimate will jump to the $222 area or what is otherwise the calendar 2003 current estimate.
The PE ratio on this week's forward estimate is 22x, or on next week's expected estimate it's 21.4x.
The SP 500 earnings yield using 4,780 since the market is not yet closed is 4.52%, vs last week's 4.57%.
The final Q3 '21 bottom-up quarterly EPS estimate was 453.71 vs the starting estimate on 10.1 of $49.11 for an "upside surprise" factor of 9%. These upside surprise factors will continue to shrink in Q4 '21 and Q1 '22 since the SP 500 will be "comping against the strongest rebound quarters of the initial shotdown in late 20.
Q1 '21 will be a very tough comp for the SP 500 when the overall EPS growth was 52.8% and the SP 500 revenue growth was 13%.
Q4 '21 earnings releases start in two weeks.
Summary / conclusion: Thanks for reading this year. I'd expect 2022 SP 500 EPS growth to be at least 10% – 12% and more in line with the longer-run averages after we lap Q3 '22, which is lapping the ridiculous numbers from Q2 '21. Guidance with Q4 '21 earnings which start in two weeks will likely be conservative given more uncertainty.
The revenue revisions in the commodity sectors like Energy and Basic Materials remain very strong.
Walgreens reports next week. WBA is a consumer staple, and I'm a loyal fan of the retailer but the stock has some headwinds for sure.
It's been a long year. Thank you for being a loyal reader.
Appreciate all the discussions about SP 500 earnings.
Take everything you read here with healthy skepticism, and not just here but on every blog.
Thanks for reading. Happy New Year !