This week, all the SP 500 EPS metrics continue to look normal:
The forward 4-quarter estimate fell $0.06 to $215.97 last week;
The PE ratio on the forward estimate is 22.9x
The SP 500 earnings yield increased to 4.76% from 4.70% last week;
This week, Costco (COST) and Oracle (ORCL) report their November '21 quarterly results. Both stocks have had monster 2021 returns of 45% and 42% YTD respectively (annualized).
Some of the best sources of SP 500 and overall market EPS data this blog has stumbled upon over the years:
Ed Yardeni's service. This blog subscribed for a while, but it's a LOT of data. Still, you might want follow Ed Yardeni on LinkedIn for regular updates. Ed writes on a wide range of topics on Linked – not just earnings – and it's always a good read;
Bespoke updates readers right before earnings season starts and the Bespoke earnings update gives a very good read on "positive / negative" revisions and sentiment coming into earnings season. Bespoke's annual subscription cost is reasonable even for small advisors.
IBES data by Refinitiv and the weekly "This Week in Earnings" report is the key source of most of the data used on this blog. Factset has a good product too, but I'm partial to IBES data and Refinitiv. This blog has been a Refinitiv subscriber for probably 15 – 20 years;
@Earnings Scout on Twitter has some useful commentary, too.
Here's a word of caution to readers. Pundits and market commentators will use snapshots of SP 500 EPS and revenue data to make their points and you have to be careful. Looking at longer-term trends is more useful.
This blog is cautioning readers that 2022 will be a return to more normal growth rates for SP 500 EPS and revenue. This blog puts up the date every week and you'll be able to find it below. The other aspect ot the data is that the sell-side consensus has been VERY reluctant to boost numbers for forward estimates during Covid-19, hence investors have seen extraordinary "upside surprises" for EPS over the last 5 quarters.
This will likely return to normal in 2022 as the typical "upside surprise" range in a normal economy for the SP 500 is 2% – 6%.
Finally this blog post was written as a cautionary note to warn against readers using SP 500 EPS and revenue estimates as a strict "market-timing" tool.
Here is what the 2022 calendar year looks like as of 12/3/21: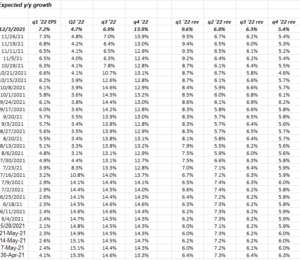 Data source: IBES by Refinitiv "Earnings scorecard"
Q4 '21 expected SP 500 revenue growth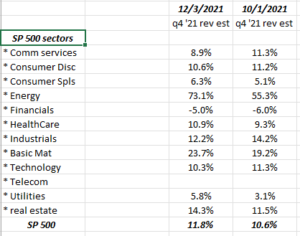 Data source: IBES data by Refinitiv
The goal of this compare was to see if – based on Q3 '21 results so far – if the revenue needle for Q4 '2 1 had moved much.
And it hasn't.
Conclusion / Summary: For a seasonally strong period of the calendar year, November and December have started out poorly in terms of SP 500 performance. The Russell 2000 led us lower and broke support after the R2k broke out in October '21, thus we had to sell the IWM put on for a trade. The XBI trades horribly too and biotech and the R2k tend to be somewhat correlated over time. Clients XBI position remain intact, although it's maddening to watch.
These "average, annual" SP 500 returns posted on Friday, December 3rd, 2021, were shared with a client at dinner Thursday night and this data really has my attention. The long-term secular 7% return on the SP 500 remain intact, but the more recent returns are substantial to say the least, and these include the March '20 Covid-19 correction and the Q4 '18 and December '18 "Fed-driven" correction of nearly 25%. This blog has been paring back on client's growth positions the last year (sold Visa (V), Netflix (NFLX), and have trimmed Microsoft (MSFT) for the first time in years, particularly after Satya Nadella sold a substantial chunk of his stock the past two weeks just as Saleforce warned.) The Docusign (DOCU) decline of $98 or 42% on Friday, December 3rd got my attention as well, although it's never been owned.
Client accounts are being transitioned from "more growth" to "more value" and "more uncorrelated" with the expectation that 2022 will be a tougher year for "expected" returns.
Take everything you read here with substantial skepticism and a healthy grain of salt.
Thanks for reading.