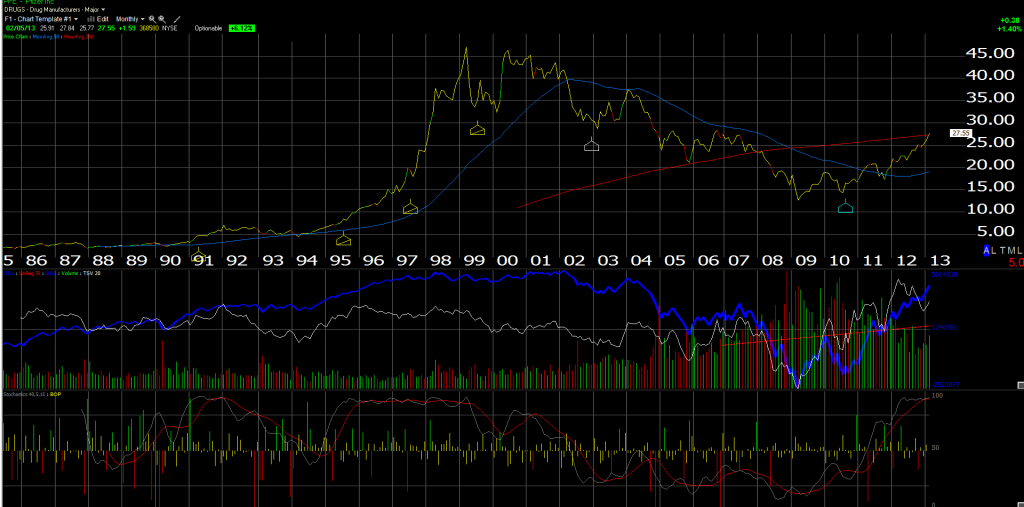 Pfizer reported earnings last week that beat analyst estimates, and was shortly followed by a successful IPO of the animal-health unit Zoetis (ZTS), but as the above chart indicates we sold about 40% or our poistion Monday, February 4th.
Pfizer was a great performer for accounts last year. We started buying in December, 2011, and held all year, and had a very nice gain on the stock.
Here is the valuation issue: at $27 – $28 per share, PFE is getting fully valued and with a lot of Zoetis news already baked in (the proceeds are being used to repo shares), we need to start seeing something from the pipeline. Forward revenue estimates for the next three years for PFE are calling for -2% revenue growth on 4% earnings per share growth through 2015.
Yes, expectations are modest, but until we see some pipeline successes, I think a lot of the fundamental news, like the healthy 3.5% dividend and the share repo plan, is already in the stock.
We still have 50% – 60% of our original position in PFE, but given how JNJ and PG have performed, we want to use part of the proceeds elsewhere. We like MRK too but I want to watch it to make sure it holds $40 per share.
Pfizer could correct a substantial amount and remain technically in good shape.
(Long PFE, MRK, JNJ, PG)