TheStreet (Jim Cramer's old site) is reporting this weekend that preliminary Mastercard SpendingPulse for Black Friday sales rose 29.8% with a sharp increase in mall traffic over last year; no surprise given the 2020 pandemic restrictions.
Online sales rose just 10.6% while in-store traffic rose 42.9%, both y.y.
With Friday's close, the SP 500 is trading at 20x the "expected" 8% EPS growth for 2022, while expected 2021 EPS is growing in the mid-40% range.
SP 500 key metrics:
The forward 4-quarter estimate jumped to $216.03 this week from last week's $215.03;
The PE ratio on the forward estimate jumped to 21.3x versus last week's 21.8x;
The SP 500 earnings yield jumped to 4.70% from last week's 4.58%, still lower than the 10/1 EY of 4.90%
The Q3 '21 quarterly bottom-up SP 500 estimate is now $53.82 vs the start of the quarter's $49.11;
The Q3 '21 quarterly bottom-up estimate is $51.15, almost identical to the 10/1 estimate of $51.08.
Analysts are still reluctant to lift forward estimates.
Looking at the percentage growth data, Q4 '21's expected SP 500 EPS growth of 21.6% has changed little since the 10.1.21 expected growth rate of 21.7% while the expected revenue growth rate for the SP 500 has risen a full percent from 10.6% to 11.7%.
Here's the history for Q3 and Q4 '21 EPS and revenue revisions: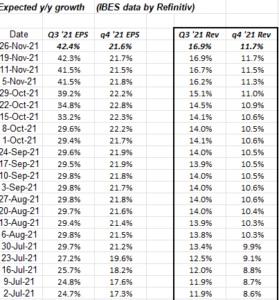 Readers will see a nice increase in 2022 expected growth in this table below: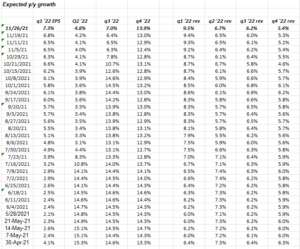 This data was somewhat surprising, i.e. both expected EPS and revenue growth rates moved higher.
(All data sourced from IBES data by Refinitiv).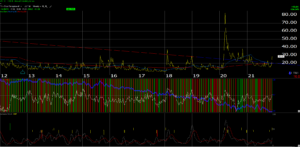 However despite the VIX spike to 30 on Friday, 11/26, per Bespoke, the gap down open on Friday is historically not a concern: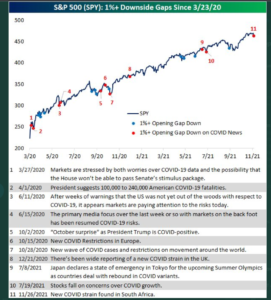 Source: pleased Bespoke subscriber
If readers want to enlarge this weekly VIX chart, you'll see the many shocks to the SP 500 over the past 5 – 7 years. I'd forgotten about 2018 and the volatility collapse i January '18 and then the 20% correction in Q4 '18, that ended right around the Christmas holiday.
Summary / conclusion: The boost in the expected 2022 EPS and revenue growth rates (by quarter, in the 2nd table) was somewhat surprising after sitting down with the data Friday night. Also, the sequential increase of $1 in the forward 4-quarter estimate was also stronger than I had anticipated (think about annualizing this latest sequential increase) given the market action on Friday.
Other than Salesforce (CRM), no other companies reporting earnings this coming week are of interest.
Corporate credit spreads have widened the last month but not alarmingly as the high-grade corporate spread is still under +100 bp's (average) and the average high-yield credit spread is still within the range of +325 or so.
Take all this with a healthy dose of skepticism, but I liked seeing the bump in forward EPS and revenue growth rates by quarter for 2022.
Thanks for reading.