One of the vagaries of the IBES data by Refinitiv, is that the "This Week in Earnings" and the Earnings Scorecard, while released on Friday, contains data updates as of Thursday, the night prior. This isn't that big of a deal since, during every earnings season, the vast bulk of each weeks earnings reports occur from Monday night after the close to Thursday night after the close.
With today being October 1, the "forward 4-quarter estimate" should be Q4 '21 through Q3 '22 and if we summed those quarterly bottom-up estimates for the SP 500, the sum would total $213.17.
The IBES data by Refinitiv report report is still using Q3 '21 through Q2 '22, which summed to $206.32. The report also shows Thursday's close for the SP 500 of 4,307 and the PE ratio based on that close.
It's ok: this blog just adjusts for the calendar anomaly.
Next week, we should see the typical 3% – 5% increase in the forward estimate as the old quarter falls off and a forward quarter is added for estimate inclusion.
Too much detail, sorry.
Here's a quick summary of the data: 
Forward 4-quarter estimate (per the data) is $206.32 vs $206.60 from last week.
The forward 4-quarter estimate (using the Q4 '21 – Q3 '22 roll, which will be shown next week) is $213.17 vs last week's $206.60.
The PE using Friday market's close is 20x;
Here's what's interesting: the SP 500 earnings yield ended Friday at 4.74% vs last week's 4.64%. The closer the SP 500 earnings yield gets to 5%, the more the SP 500 earnings yield approaches a post-Covid 19 recovery;
Here's some other data this blog tracks using the IBES data by Refinitiv:
Watching quarterly growth rates: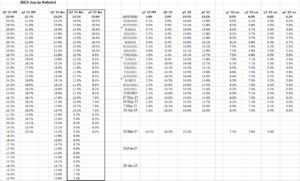 Q2 '21 is now over and falls off the above spreadsheet. Thanks to very weak 2020 comparisons, SP 500 EPS grew 96% y/y, while SP 500 revenue grew 25.2% y.y. We wont likely see those growth rates again for a while.
However last week, this blog wrote about 2022 EPS and revenue "expected" growth rates were being revised but this week, that has changed. It's probably a little early to be making highly probabilistic predictions about 2022 estimates, but we will have some idea when Q3 '21 earnings start in 10 days.
The nice thing is this blog updates the estimates every week.
Q3 and Q4 '21 EPS were reduced a little bit this week, but Q4 and Q4 SP 500 expected revenue growth rates were revised a little higher.
I expect another good quarter of SP 500 EPS and revenue with 3rd quarter, '21 results. The economy did weaken a little in Q3 '21 but much of that was the auto industry per Dr. David Kelly of JP Morgan. Nike, and some retail has seen supply chain issues with the LA Port backup and such, but I think much of that is in the stocks and numbers.
The issue with valuations and not necessarily earnings trends is the taper. That could gather stream in early 2022.
Pepsico reports next week, which could give us some insight into the Consumer Staples segment the last few weeks. Part of it no doubt is / was the dollar strength, but let's see what else is happening with PEP's conference call. Clients are long KO, but Walmart is getting interesting back in the low $140's again.
Summary / conclusion: All of this blog's SP 500 earnings data is sourced from IBES data by Refinitiv, but I keep my own spreadsheets and track much of this data over the last 10-15 years. Some sector EPS and revenue growth rates estimates will be published this weekend.
One fun fact noticed on Briefing.com is that – like the 2nd quarter – Apple, Microsoft, Facebook, Amazon, and Alphabet are all scheduled to report their Q3 '21 earnings the last week of October.
Here's what Briefing.com has for expected Q3 '21 earnings report dates for the Big 5 – 6:
Apple: October 28th, after market close (AMC)
Microsoft: October 26th, AMC (not confirmed)
Facebook: October 27th, AMC (not confirmed)
Alphabet: October 26th AMC (confirmed)
Amazon: October 28th, AMC (unconfirmed)
These report dates could change, but it's somewhat unusual to see these companies report in the same week.
Thanks for reading.