On 9/18/20, the consensus year-over-year EPS growth estimate for Q2 '21 was 43.5%. The actual growth rate with just two weeks left in the quarter is – as of today – 95.5%.
The expected y.y revenue growth rate for Q2 '21 on 9/18/20 was 12.6%, but that same number today is 25%, with two weeks left in Q2 '21. (For all practical purposes assume that Q2 '21 won't change since companies reporting in September typically have August '21 quarter-end.)
Looking at the inflection point, when Q4 '20 earnings started in January '21, the Q2 '21 growth rates started to accelerate. and the numbers accelerated even faster starting on February 1 '21.
The reason for pointing this out is that sell-side consensus became even more tentative around the pandemic and they dramatically underestimated the actual strength of the SP 500 results the last 4 – 5 quarters.
It will be interesting to see how 2022 SP 500 EPS and revenue growth rate revisions change with Q3 '21 earnings starting early October '21.
How does 2022 estimated quarterly growth rates look today ?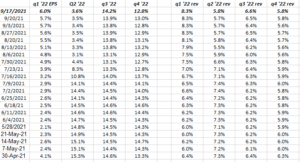 This data from IBES by Refinitiv from the "Earnings Scorecard" shows the progression in expected 2022 SP 500 EPS and revenue growth rates by quarter since late April '21.
Next year will likely see more "normal" EPS and revenue growth rates but as readers can see the estimated growth rates are still trending higher.
That's a good sign.
It doesn't mean readers should be bullish or bearish: in 1994, SP 500 EPS grew 20% y/y and the SP 500 returned 1% on the year thanks to 6 fed funds rate hikes by the Fed and higher interest rates, across the yield curve.
But given the old saying, "the fastest man doesn't always win the race, but it's not a bad way to bet", the positive revisions are comforting to see for the bulls.
Capital markets and conditions change rapidly these days. Read everything with great skepticism.
Thanks for reading.