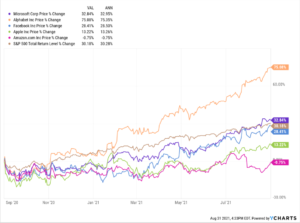 It was exactly one year ago today – September 1, 2020, that mega-cap tech stocks stopped being momentum stocks within the SP 500, and the laggards in 2020 began to show progress.
This table from YCharts shows the performance of the large-cap tech stocks since 9/1/20.
Amazon and Apple are notable underperformers in the last 12 months.
As of June 30th, 2021, the SP 500's YTD total return was 15.25% versus the Nasdaq 100's 13.24%, while as of August 31, '21, the SP 500 returned 21.5% while the QQQ's have returned 21.39% YTD. (Performance data for downloading isn't ready until tomorrow, so the YTD August 31 '21 data is from Morningstar.)
Clients are long all of the above, with the biggest weights being Microsoft and Amazon.
Thanks for reading.